This article is more than 1 year old
Pastafarians: Get your noodly appendages off that Facebook suspect
Pasta-based worshippers protest arrest of man for 'blasphemy'
Greek Pastafarians staged a protest in Athens on Friday, days after a man was arrested for running a Facebook page that satirised a revered monk.
The 27-year-old faces blasphemy* charges over a Facebook page that mocked deceased Greek monk Elder Paisios, using the name Elder Pastitsios (the name of an even better known Greek dish).
The offending Facebook page - facebook.com/gerontas.pastitsios - has been pulled. The page reportedly featured photoshopped images of Elder Paisios sporting facial features more normally associated with pastitsio, a traditional dish involving ground beef, pasta and béchamel sauce.
Pastitsios allegedly trolled Greek nationalist blogs, planting hoax accounts of 'miracles' which they reproduced without question. These hi-jinks prompted complaints from supporters of the neo-fascist Golden Dawn party as well as the Greek Orthodox Church. Golden Dawn recently gained its first seats in the Greek parliament.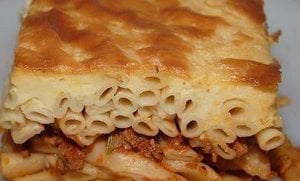 Delicious: The meaty, cheese-topped deliciousness that
is pastitsio. It's something like a lasagne, but with
tubular bucatoni/macaroni variant (or similar)**.
On 24 September, Greece's Cyber Crimes division arrested a 27-year-old man on charges of blasphemy, sparking protests on Twitter under the hashtag #FreeGeronPastitsios, and small street demonstrations by supporters. The unnamed suspect was arrested at his home in Evia by officers from the police's cybercrime unit, three days after Christos Pappas - a Golden Dawn MP - complained about his page in written questions to the religious affairs minister, Athens News reports.
A police statement on the arrest albeit in Greek can be found here. ®
* Yes, this is actually a crime in Greece. It carries a fine of up to €3,000 (£2,400) or two years.
** Please note the ingredients of a) lasagne and b) pastitsio before submitting comments