Mark Zuckerberg ditched his trademark hoodie getup and pulled on a suit for a meeting with beaming Russian Prime Minister Dmitry Medvedev yesterday.
The Facebook founder posted a photograph of his visit to the Russian leader's residence just outside Moscow on the social network. The 28-year-old Web2.0 adman said the pair had shared a "good conversation" together.
Zuck, back in his usual casual attire, also paid a visit to Moscow's Red Square presumably as part of a charm offensive to drum up trade in Russia.
One of Facebook's biggest investors is former particle physicist and now Web2.0 billionaire Yuri Milner who founded Digital Sky Technologies and acquired a two per cent stake in Zuckerberg's empire in 2010 having spent $200m on the company.
He cashed out some of his stock during Facebook's initial public offering (IPO) in May this year, when shares were briefly trading above the $30 mark.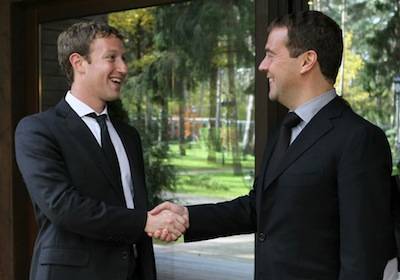 Worst. Blues Brothers. Tribute act. Ever. Image credit: Medvedev's Facebook page
One of Russia's richest men Alisher Usmanov, who is the controversial Uzbek commodities plutocrat and Arsenal FC's major shareholder, invested in Facebook in 2009 and made $1bn after selling his shares in the company this year when the dominant social network floated on the Nasdaq.
Milner and Usmanov still own stock in Zuck's website that is worth billions of dollars. During the IPO, both men agreed to sell their voting rights to Zuckerberg in exchange for retaining a tasty chunk of shares in the firm.
Reuters reported that Zuckerberg discussed with Medvedev the possibility of opening a Facebook research centre in Russia. ®
Similar topics