Whiptail, the self-proclaimed first shipper of an all-flash array, opened up to a press briefing party in Whippany, New Jersey, and spoke of its future plans, saying it is ready for hyper-growth.
Company CEO Dan Crain said flash arrays would enable businesses to run lengthy processes five times, ten times or even more times faster, and enable processes that currently take a day to execute and complete in hours. The businesses using Whiptail's kit would be able to take decisions in minutes that currently take hours, enabling them, for example, to optimise pricing with demand much closer to real time.
Whiptail was founded in 2008 by James Candelaria, now its chief technology officer (CTO). Volume product ships started in 2010 and it grew revenues 400 per cent in 2011. It is now adding dozens of customers a month with the total passing 100. Eighty per cent of the customers use block access, with 40 per cent of them using Fibre Channel and the larger 60 per cent iSCSI.
Crain said that Whiptail is "past our start-up phase. We are a young hyper-growth company, adding people every month ... [and] dozens of customers a month." The current headcount is around 140.
The need for flash speed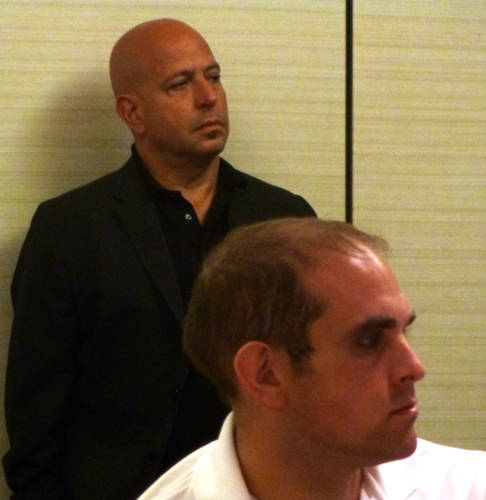 CEO Dan Crain (standing) and CTO James
Candelaria (seated).
Whiptail says its single node ACCELA and dual-controller, 2-6 node (enclosure or SSD shelf) INVICTA flash arrays, with their unified file and block access, enable businesses to speed up their computing processes, and do so by replacing hard disk drive arrays in situations where app performance is key. Part of INVICTA's speed comes from the use of InfiniBand to connect controllers and nodes. We're told a cloud service provider in Silicon Valley has bought 12 INVICTA arrays.
CTO and founder James Candelaria says that Whiptail arrays can run multiple concurrent and different workloads; database, transactions and VDI simultaneously.
There have been two funding rounds, with the amounts undisclosed. We understand a C-round will be announced in October, perhaps with numbers revealed. Crain hinted: "The announcement will be more than funding." Will an OEM deal be announced?
We were told that Whiptail's EMEA presence is growing, with offices being opened in Spain and France in the next six months, and a presence in Belgium. Crain said: "We'll open manufacturing and have full-time technical support specifically focused on Europe."
We also learned that Whiptail buys in consumer grade multi-level cell SSDs from two suppliers and these have specific behaviours mapped to Whiptail's requirements with bill-of-materials locking. One of these suppliers is Micron; it supplies its 2.5-inch SATA interface C400 SSD to Whiptail. We saw a 256GB model.
Whiptail manages flash with its RaceRunner operating system. Candelaria said the company takes a system-wide approach to solving the write speed and limited endurance problems inherent in multi-level cell flash and solves these problems with software. Writes are staged until a flash block's worth mounts up and then the block is written in one operation reducing the number of program-erase cycles imposed on the flash. Wear-levelling is also carried out in software. This contrasts with Violin which uses, Whiptail says, FPGA hardware.
Copy-on-write snapshots are used. Data is synchronously mirrored within the array and we might see an extension in this area to data protection between Whiptail's arrays as well as within them. We understand Whiptail is working on a scale-out architecture as well.
Cost/GB and deduplication
Many flash array suppliers make a virtue of deduplicating stored data so as to effectively decrease the cost per GB of stored data. Whiptail says it does not do this.
There is a degree of compression and deduplication with the focus being on performance rather than lowering the cost/GB. Crain said: "We will do some more compression and dedupe. Most customers don't care. [But] you will see a lot more from us. … We'll be far more aggressive in the data reduction area but without any performance impact."
The ACCELA array costs $49,000 per TB at its suggested retail pricing level. A 2-node INVICTA has a $250,000 suggested price, while a fully loaded 72TB 6-node INVICTA will set you back $1.8m.
The Whiptail view on whether cost/GB for flash arrays matters is interesting. Candelaria said cost/GB does not matter when flash arrays are replacing tier one disk arrays – performance is king there – but does matter when replacing tier 2 disk arrays.
Candelaria said he does not like the modern moves to reinstate direct-attached storage (DAS), or the idea of putting compute in the storage, as Violin is doing: "We got away from DAS 10 years ago. We can deliver data in 200 microseconds to a server. … We don't need compute in the storage array for low latency for more than 90 per cent of enterprise applications."
Flash futures
We asked him about three level cell (TLC) flash, Samsung having just announced its TLC 840 SSD, the first TLC SSD, and one using 19nm flash. Candelaria said it has a scarily low number of electrons in the gate and degrades after 550 – 750 program/erase cycles and is unusable. But TLC flash will become usable eventually, usable for consumer use. That's okay, Whiptail uses consumer-grade SSDs now, so: "We will be able to use it before anyone else."
Crain said Whiptail was aware flash had only one or two more process iterations, shrinking down past the currently state of the art 19nm NAND, until it becomes just too error-prone and short-lived. There will be a replacement technology and Whiptail is talking to potential suppliers about that, knowing it will have to adopt one: "We're tracking the new memory types. You may see them from manufacturers next year."
Whiptail is also tracking form factors for flash beyond 2.5-inch and SATA. It thinks that we will eventually see all hot data migrate off disk drive arrays onto flash with the drive arrays only used for cold data.
A demo of INVICTA's speed showed it running database sand some other work, and then firing up 600 VDI seats, which it did in three minutes and 47.03 seconds without impacting the database work. Whiptail has sold multiple ACCELA arrays product to an un-named Netherlands government body which uses it for a 20,000 seat VDI application, booting them in less than 5 minutes. That puts Violin's 6,000 seat VDI win at the UK's NATS in context. Hammering the comparison home Candelaria said the Dutch will grow it to 40,000 VDI seats.
Competition
Violin Memory is Whiptail's main competitor and we were told that Whiptail has a very high win rate when it meets Violin in a customer deal. It's eschewing the fancy compute-in-the-array moves it sees Violin making and also avoids focussing its marketing on being the absolute performance leader, which is a Kaminario strategy.
Crain and Candelaria must know that EMC's XtremIO box will be strong competition when it appears because of EMC's brand presence and channel reach. Their strategy is to ramp up their own sales channels, geographically for example, and keep on developing and extending the product range and features. They must also know that Pure Storage will feature in deals they contest eventually, along with SolidFire and Nimbus. All these all-flash array start-ups and EMC will eventually meet each other in the market as customer demand increases, and their sales channels and markets grow and overlap.
What's the end-game? Crain said Whiptail is not interested in being acquired. The exec team wants to build a great storage company around the flash re-invention of the classic dual-controller storage array. El Reg thinks that if a big enough cheque was waved in front of them and their venture capital backers then an acquisition would be a foregone conclusion. But how big would that cheque have to be?
The more successful they make the company, the richer they will be from share options when it goes public, and the higher the price to be paid by any acquirer. They won't lose either way. What they absolutely must do is withstand the shock that EMC's entry into the market will cause. When the elephants start to dance then the mice better be big enough to dance too or else get off the floor to avoid being stomped on. Whiptail has to get big quickly. This infant needs to grow up – fast. ®