This article is more than 1 year old
Riverbed plunks ESXi hypervisor in Steelhead WAN optimizers
Gooses performance with flash, optimizes virty desktops
Riverbed Technology's Steelhead WAN optimization appliances are growing up to be proper server citizens now that they can run VMware's ESXi bare-metal hypervisor. Riverbed is also kicking out two new Steelhead CX appliances and upgrading its RIOS operating system with some nips and tucks to help it do a better job of optimizing traffic for remote desktops fed by VMware's View virtual desktop infrastructure (VDI) broker over the wide area network.
The one thing that remote offices don't want is another box to have to manage, and the one thing data center operations don't want is remote offices managing anything themselves. So switch and appliance makers have been putting baby x86 servers into their gear, loading up an operating system on them (generally a Linux variant), and providing some kind of server application functionality that runs locally at the branch office on the switch or appliance but which can be managed centrally from the data center.
Miles Kelly, senior director of product management for the Steelhead and Granite appliances at Riverbed, tells El Reg that previously, the Steelhead appliances had used the type 2 or hosted hypervisor formerly known as GSX Server and eventually renamed as VMware Server.
While this allowed server workloads to run on the Steelhead WAN optimizer, it had some limits, mainly that VMware Server needs an underlying server operating system that has to be secured and that it cannot be controlled by the vCenter Server console that plugs into the ESX Server and now ESXi bare-metal (or type 1) hypervisors.
And so Riverbed is upgrading the Steelhead EX branch office WAN optimizers so they can run real ESXi, in this case the 5.0 release that came out last summer. Support for ESXi 5.1, which was announced by VMware in August and which started shipping last week, will come later after it has been in the field for a while. Riverbed does not divulge what x86 processors it uses in the Steelhead appliances, so it is hard to say how much oomph is available for running server applications from inside the unit.
Riverbed is also not divulging how it runs its RIOS operating system and ESXi side-by-side on the platform without them arguing about who is control of the processors and memory, but Kelly says that ESXi is not running on top of RIOS but next to it and sharing the hardware.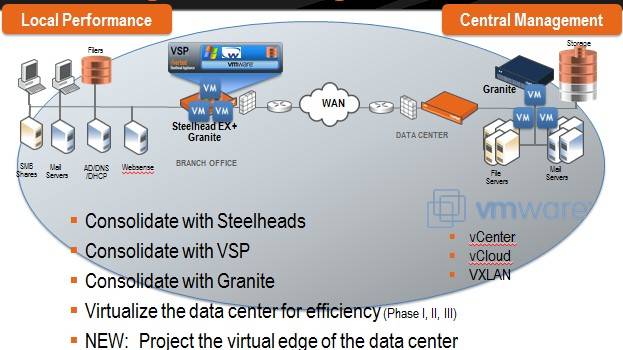 Compute locally in the branch, manage centrally from the data center
Riverbed is bundling the freebie ESXi hypervisor on the box and offering to support it (otherwise you would have to pay VMware the $495 per year it charges for that), and if you want to upgrade its functionality, you need to get licenses for vSphere editions from VMware as well. (It is hard to imagine customers running vSphere Enterprise Plus on a WAN optimization appliance, but anything is possible in this crazy old world.) And those virtual server instances running on the Steelhead EX appliances can now be part of vCloud clouds, too.
The RIOS 8.0 update also coming out today has a new software kernel with performance enhancements and tweaks to improve the performance of over 600 applications that Steelhead optimizes the performance of over wide area networks.
Riverbed has also worked with VMware, which provides the View virty desktop broker, and Teradici, the maker of the PC over IP protocol that VMware uses inside View to cut down on the bandwidth needed to run a virtual desktop, to provide optimization for desktops that stream over the WAN instead of LAN links inside of the corporate firewall.
The Steelhead Mobile optimizer for laptops is upgraded to a 4.0 release and now companies can do app optimization from their networks to as many as 120,000 mobile users. This new software will be available before the end of the year.

The CX5055 WAN optimization appliance
And so, too, will be two new Steelhead CX appliances, which are the dedicated WAN optimizers that do not have the x86 coprocessors for running virty applications in branch offices. These have been beefed up with flashy SSDs to significantly boost their throughput.
The CX5055 appliance is a 2U rack-mounted contraption that has 16GB of main memory, 1.6TB of raw disk capacity, and 640GB of SSD capacity with from 4 to 20 bypass ports. It comes in two models. The CX5055-M is rated at 14,000 connections across its 200Mb/sec of WAN bandwidth and costs $64,995, while the CX5055-H is rated at 25,000 connections with 400Mb/sec of WAN bandwidth and costs $99,995. This box has about twice the throughput of similar CX5050 models it replaces.
The CX7055 looks the same from the outside and offers the same number of bypass ports, but has more memory, disk, and flash capacity as well as being tweaked to support more simultaneous connections to the WAN. The CX7055-L has the same price as the CX6050 and supports 75,000 connections (50 per cent more) at the same price point of $129,995; it has 32GB of main memory, 1.6TB of flash, and 2.6TB of disk.
The M model of the CX7055 has 1Gb/sec of WAN bandwidth and can support 100,000 connections, thanks in part to the boost in memory to 48GB, added flash to 2.4TB, and added disk to 3.4TB; it costs $179,995. The top-end CX7055-H has 1.5Gb/sec of WAN bandwidth, can have 150,000 connections, and has 64GB of memory, 5.8TB of disk, and 4.8TB of flash and you can have one for a $234,995.
Those are pretty good prices for what is probably a two-socket Xeon E5 box. It's nice business if you can get it. Which Juniper just admitted it can't and has mothballed its own WX and WXC series WAN optimizers and endorsed the Steelheads. ®