UK data-storage company Xyratex can't seem to catch a break. Yesterday it copped to a quarterly revenues slump of 24 per cent year-on-year – due to product and equipment quality issues, and weakened enterprise demand – and it also reckons that disk drive sales are heading for a fall.
That's not very good news for Xyratex, which ships drive array enclosures to OEMs, ClusterStor high-performance computing (HPC) arrays, and test equipment to HDD manufacturers.
For its third calendar 2012 quarter, Xyratex revenues were $275.7m, compared to $361.8m a year ago and $322.1m in the second quarter. Net income for the third quarter was $7.7m, compared to $9.7m a year ago and $7m in the prior quarter; sequential profit up, revenue down – that's something.
CEO Steve Barber talked about "a very challenging quarter" and mentioned "technical and performance issues with our latest Capital Equipment and High Performance Computing products" that had affected product revenue recognition before the end of the quarter. In other words they couldn't ship properly working product before quarter-end, particularly a ClusterStor product to one customer. He admitted: "We were somewhat too optimistic in our assessment of the time needed to secure full customer acceptance for such projects."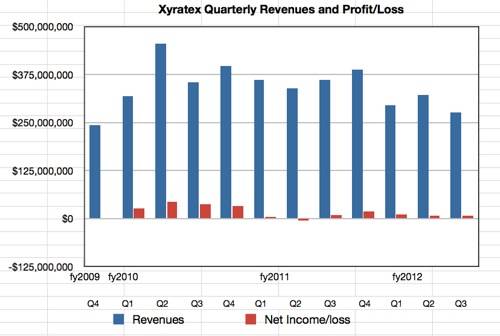 Barber said those problems have been largely fixed.
Richard Pearce, Xyratex CFO, said in the earnings call: "Sales of our Enterprise Data Storage Solutions products were $223.4 million or 81 per cent of total revenue. This is a decrease of 33.6 per cent compared to the third quarter of last year and a decrease of 19.8 per cent compared to our prior fiscal quarter."
Weakening enterprise storage demand
Test equipment sales were up 107.4 per cent compared to last year; enterprise storage products were where the revenue damage was done. Was the weak enterprise storage demand unique to Xyratex's OEM customers or is it general?
Barber talked about a "macroeconomic slowdown in end-user customer demand, as recently reported by a number of companies in the data storage sector." He specifically identified this point:
In our Enterprise Data Storage Solutions segment, there was a material decrease in the demand across our customer base through July and August. This is our planning forecast with many of our customers experiencing a decline in end-user demand.
The major OEM customers for Xyratex are:
NetApp - 42 per cent of sales. This could halve in 2013.
Dell - approximately 24 per cent
IBM - 19 per cent
HP - 7 per cent
The rest – 8 per cent
Pearce added: "EMC was one of our major customers, which we did state was coming to an end during 2012 and that has happened. So that's kind of almost now down to 0."
The demand slowdown was across this customer base, with one aspect of it being a shift to systems with fewer disk drives, and Barber expects the slowdown to continue in the fourth quarter: "There's really a macro effect going on here, which is impacting the broad range of customers that we serve."
Declining disk drive sales projected
Barber added: "The markets we serve are fundamentally changing." Sales of test equipment to disk drive manufactures are decreasing due to manufacturer contraction to just three suppliers: Seagate, Toshiba and Western Digital. The OEM storage platform business is also seeing lower growth. As a result Xyratex is reducing its staffing levels by 10 per cent by the end of first 2013 quarter.
Barber said Xyratex saw:
a projected decline in overall disk drive unit demand linked primarily to the decline in laptop sales and growth of flash-based tablets and smartphone devices and the resulting migration of data to cloud-based storage.
He is saying that sales of disk drive units and/or total disk drive capacity are going to fall – a song the Reg's storage desk has been singing for some time now. This will affect the disk drive suppliers.
Big Data boost
The company plans to tale advantage of growth in Big Data and HPC, where the ClusterStor product could be positioned – rather than as an OEM component product, meaning it would have a higher profit margin. Barber was hopeful looking ahead: ""Over the next 18 to 24 months we have a number of new opportunities, particularly in the area of Big Data/High Performance Computing."
He added: "We are already engaged in detailed discussions with a number of cloud service providers ranging from ISPs, web-hosting providers, online gaming companies and major global telcos, all considering Xyratex as a compelling partner for their [big data] infrastructure architecture." Xyratex may also make so-called tuck-in acquisitions to give it technology needed in some big data vertical markets.
Barber said Xyratex was also building "partnerships with additional Tier 1 compute partners. Those partners will expand our accessible marketplace beyond, daresay, supercomputer … into more wider-ranging commercial applications where we're seeing significant adoption of HPC solutions into commercial and business-related sectors."
However, in the short term, Xyratex is forecasting fourth quarter revenues of between $235m and $285m and a loss. Full year revenues will be lower than the $1.45bn of 2011, it estimated. We're looking at $1.13bn to $1.18bn – at least $270m less.
It gets worse. Pearce said: "We expect revenue for the fiscal year 2013 to be down as compared to the fiscal year 2012 towards levels where we may incur losses." These are expected, if they happen, to be in the first half of the year with profits, hopefully, in the second half. General growth will occur in 2014 and onwards, the company predicted. ®