Apple has filed a brace of patents that, in part, describe methods to control printing and print settings by having the user physically interact with their iOS device by "shaking, flipping, rotating, spinning, moving laterally or to follow a shape, or combinations of these."
In US Patent and Trademark Office applications 20120250071 and 20120250072, Apple asserts that since some devices – think iPhones and iPads – have a relatively small display, the provision of on-screen print settings might result in user interface items that are too small for easy use. "An alternative approach for defining print settings may be advantageous," they explain.
Apple's solution in these two patent applications is for the user to shake the device to enable print mode, then further physically manhandle the device to enable different printing options – say, flipping the device from front-to-back on its long axis to indicate long-edge binding, or top-to-bottom to indicate short-edge binding.
Apple also suggests flipping the device over and then shaking it to cancel a print setting. "By combining a shaking motion with a flipping motion," both applications suggest, "the electronic device can reduce incidents of accidental canceling."
Perhaps there's some merit in this "shake-to-print" concept, but The Reg is not convinced. Part of our misgivings – aside from, well, the silliness involved – stem from the shaky history of shakiness as a UI element in iOS.
iPhones and iPads have enabled shake to Undo and Redo typing-deletion capability since iOS 3.0 – there's even a third-party app to accomplish the same feat on a MacBook Pro.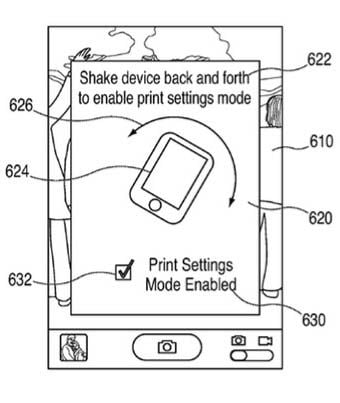 Want to print an image? Make like LL Cool J and 'Shake it, baby, shake it'
Unfortunately, this iOS "feature" has garnered its share of complaints in Apple support threads such as "Disable Shake to Undo", "After 3.0 update "Nothing to Undo" error message", "Turning off shake to undo", and "Please let us turn off shake to undo 'feature'". Although there's a third-party app called ShakeToUndo Killer to disable shaky deletions, you'll need to jailbreak your iPhone to install it.
Apple has also enabled users to shake to shuffle tunes since iOS 3.0, but in this case the shaky feature can be turned off in Settings > Music. Perhaps Apple took to heart one of the comments in an Apple discussion thread about shake to Undo and Redo: "Occasionally Apple gets too cute for it's [sic] own good," commenter Steve Sussman wrote. "Once you get over the 'gee I can shake my phone' factor there's nothing particularly useful about it."
Excuse us for being stick-in-the-mud traditionalists, but The Reg is of the opinion that Sussman's assessment of shaking his iPhone to delete typing may reasonably be extended to shaking it to print. ®
Similar topics