STILL TRUE: Facebook and co to handle taxpayers' ID
And the entire system will STILL NEED primary legislation, too
---
Comment Cast your minds back to June 2011 when The Register exclusively revealed the Cabinet Office's plans to allow British citizens to sign into public services online via social networking log-ins such as Facebook.
Now, if you glance at the national press today, you'd be forgiven for thinking that something new had happened with Francis Maude's department's grand £30m-and-counting scheme to farm out taxpayers' identity-handling to the private sector.
In case we were missing something, your correspondent checked in with the Cabinet Office to find out why headlines about "virtual ID cards" were suddenly popping up in the Independent, the Daily Telegraph and the Guardian this morning.
But it is, of course, old news. A Whitehall spokesman told us:
"As you rightly say, this is not a new story in the way that the Indy portrays it. Their correspondent was briefed by GDS [Government Digital Services], but on the existing background to the ID Assurance programme not on anything 'new'."
Sadly, what all of the nationals failed to report is that this story has somewhat moved on since then, given that - as we also uncovered - primary legislation will almost certainly be required down the line.
El Reg was told in November last year:
"The current legal opinion is that legislation will be required in due course for the full instantiation of the identity assurance model and for purposes of clarity and transparency on how identity data may be used and disclosed. However, at this stage we do not believe legislation is required in the short term for initial instantiations of the model."
We've asked the Cabinet Office if there's anything new on that front. A spokesman confirmed: "This remains the position."
Why, readers might ask, are the nationals finally wading into this story?
A quick answer is that the public services website debuted by New Labour during then-PM Tony Blair's reign - Directgov - is about to be put to sleep. Its replacement is GOV.UK, which has been in beta testing for many months now.
Interestingly, in the past few days that website has started to morph into something spookily resembling Directgov, as developers beavering away on the site start to realise that some taxpayers need words and not just pretty pictures, a minimalist layout and a massive search box to access public services online.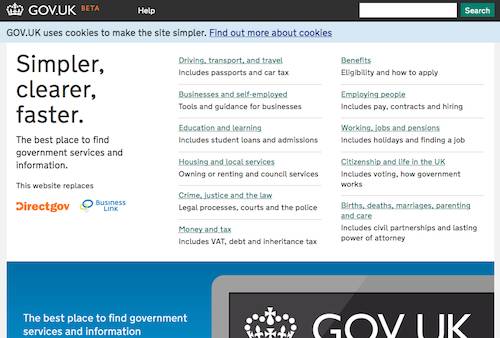 Bold 'Google homepage-like' design ditched at last minute for something that resembles, well, Directgov
The 185-strong GDS team has couched this in a back-slapping "we're listening to the people" mantra. But the fact remains that as GOV.UK's official launch creeps ever-nearer (17 October), the site is beginning to look strangely familiar, sans the garish orange splashes and admittedly over-wordiness of its predecessor.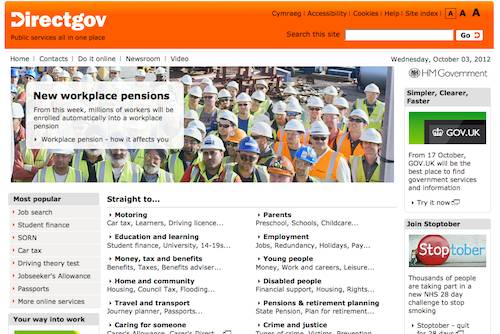 Snapshot of soon-to-be-dead Directgov homepage
It's a point not lost on Directgov's ousted boss Jayne Nickalls, who quit her £95,000 job ahead of the publication of Martha Lane Fox's strategic review of that service in late 2010.

Nickalls' retweets comment about GOV.UK after tweak
She later sniped that the search box being returned to the top right-hand corner was "maybe... right first time, 10 years ago. Doh."
Sour grapes? Perhaps. But the fact remains that the Cabinet Office has said that the current cost to the public purse of GOV.UK for 2011/2012 currently stands at £4.6m for a re-design that is edging ever-closer to the Directgov site.
The entire GOV.UK/ID assurance project is a shift away from the Microsoft-developed Government Gateway logon service into entirely new territory for Maude's department - which is keen not to be seen as the majestic hoarder of an identity database when it can instead task the likes of siloed banks and social networks with corralling taxpayers through the online public services door. ®