Blocks and Files At the HP analyst day this week, enterprise group executive vice-president Dave Donatelli laid it on the line for subsidiary 3PAR and the StoreOnce team: you gotta help get us out of this place.
This place being the rut HP's growth figures are stuck in, and CEO Meg Whitman has bet on 3PAR and StoreOnce in her turnaround plan for the tech titan.
Donatelli [his slides are here as a PDF] was one of the HP execs on parade to emphasise how his division will do its bit to get dozy old HP back to being a killer IT supplier. He's got servers, networking and storage under his belt - the latter being my focus here - and the 3PAR arrays and StoreOnce dedupe boxes got all the attention; the other products are more HP snorage than storage.
The bigwig said the three main trends affecting his business are converged infrastructure, the cloud, and the virtualised data centre, with software defining what goes on. Storage has to play nice in converged infrastructure systems. The StoreVirtual iSCSI array controller software running in a virtual machine was wheeled out as an example of this, as was collaborative caching between 3PAR arrays and ProLiant servers and the integration of Autonomy and StoreOnce deduplication.
This is catch-up stuff. Donatelli showed a slide with a Gartner Magic Quadrant diagram for mid-range and high-end modular arrays: HP is in the leaders' box clustered with EMC, NetApp, IBM and Dell, but with no clear leader. He said HP had a new vision for the storage industry, but it's EMC that's leading the pack with flash and deduping backup arrays, and Amazon and others are well ahead with cloud storage.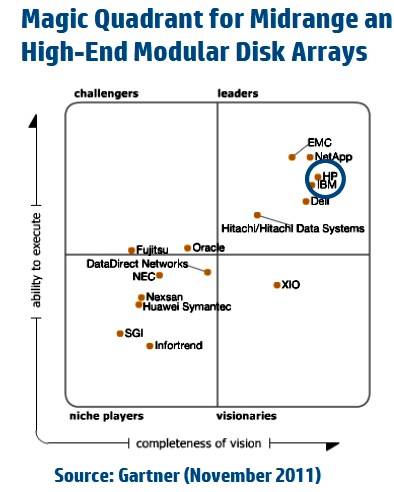 Gartner's map of companies for modular arrays
The storage array business is under attack from hot-data-juggling flash chips in servers, and from cloud computing vendors bent on taking online storage of cold data. This leaves storage arrays as nearline data tubs in enterprise data centres. What is HP doing about that?
Where is HP's commitment that the 3PAR arrays will play nice in a software-defined data centre? Where is the vision of flash caches in servers, and where are the shared flash arrays that match EMC gear? Can HP meet the numerous all-flash array startups with a strong and resonant product strategy? We know that 3PAR arrays can include flash chips, and that server caching of 3PAR array-held data is part of HP's strategy, but what about all-flash arrays located close to servers?
Where is the vision of hybrid flash and disk servers that meets those of Nimble Storage, Tintri, Tegile and other hybrid array start-ups? Or the use of flash as a cache and not a storage tier that matches NetApp? Or the use of flash as storage memory that matches Fusion-io's vision? Or the idea of running compute in the storage array?
HP 3PAR is viewed as HP's one modern storage architecture, providing common technology from the mid-range to the high-end. That leaves us asking where the P4000 iSCSI and Hitachi-sourced P9000 high-end arrays sit long-term. We know the legacy mid-range EVA line is ageing and 3PAR products are the destination end-game for the EVA customer base.
According to Stifel Nicolaus analyst Aaron Rakers, the 3PAR business has grown 80 per cent over the past year with 850 new customers. Rakers said: "HP has gained an estimated 2.6 percentage points of market share within the high-end external disk storage market since 2010 fourth quarter. HP will have a new 3PAR platform announcement by the end of calendar 2012 – a likely focus on bringing the 3PAR platform further down market going forward."
HP's StoreOnce is its single data protection architecture, with its legacy tape business in decline. It's boasts of backup and restore speed advantages over industry leader Data Domain's products. The thing is, deduping arrays are mature: the technology is well-understood and it's a stable box-shifting business. HP can make money here by repelling Data Domain from its customer base, but expelling an incumbent is a hard and slow slog unless you have a radically better product.
Is StoreOnce radically better than Data Domain? The B6200 with StoreOnce Catalyst has a claimed three-times backup speed advantage over Data Domain's DD990 with DD's Boost, and a five-times advantage in restore speed. Is this enough to make customers switch? It probably is if their backup windows are getting pushed out.
It is interesting that Donatelli did not mention Big Data as a main focus, although Vertica, with its search querying across various forms of digital content, was mentioned as a key product. Nor was there an up-front mention of file storage.
In general HP said it needs to focus on a smaller set of products in the future. Our view is that this is a sound suggestion, generally speaking - but HP's current storage product set needs to have flash, file, object, big data and cloud storage components that match the strength and vitality of its 3PAR and StoreOnce products. HP snorage has to wake up and smell the coffee.
It's waking up, 3PAR and StoreOnce show that, but has it smelt the flash, file, object, big data and cloud storage lattes at full strength yet? Competitors have, and HP must too before it decides whether it wants to play on as a full-breadth storage provider or focus on its modular array heartland with 3PAR and StoreOnce as its growth engines. ®