Pity Germany's Fraunhofer Institute. The research organisation best known for devising the MP3 music format seems to be running short of projects to puff.
This week it published an item of "research news" about the work of Fraunhofer boffin Frank Deicke, who is employed at Fraunhofer's photonics lab in Dresden. Herr Deicke is undoubtedly a clever, conscientious researcher. A few weeks ago, according to Fraunhofer, he "presented an infrared module the like of which has never been seen before".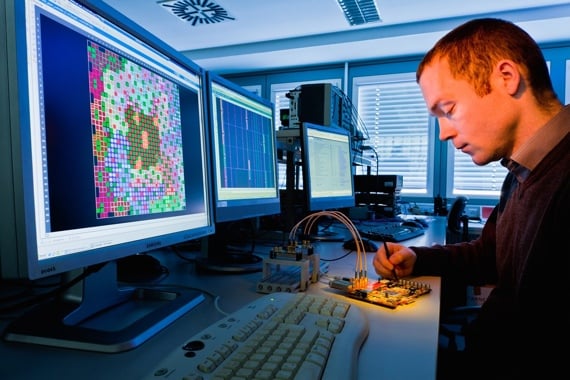 Fraunhofer photonics researcher hard at work in October 2012...
What makes the module so outstanding? It can transmit data at a rate of one billion bits per second which, the organisation was quick to stress, is "46 times faster than conventional Wi-Fi and 1430 times faster than a Bluetooth connection".
You'll undoubtedly be seeing, if you haven't already, some dropped-jaw coverage on any number of hardware blogs.
Less breathlessly, the Institute added: "Deicke has already been able to show that the transfer rate of his current model can be raised to 3Gb/s."
Can be raised? Already has been, folks - and... er... Frank Deike, no less.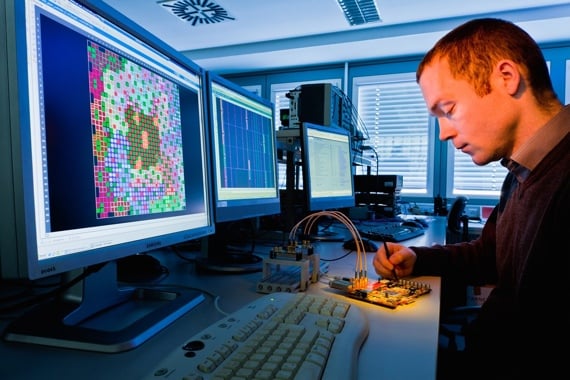 ...and February 2012
Back in February, the Fraunhofer Institute told us: "Fraunhofer Institute for Photonic Microsystems (IPMS), Dresden, has developed an optical wireless communication (OWC) link with up to 3Gb/s data rate."
The module "supports 512Mb/s and 1Gb/s Giga-IR compliant communication and can be tuned up to 3Gb/s".
Is it "the like of which has never been seen before" too?
Actually, no - as this video from 2009 showing a KDDI 1Gb/s demo shows: