The US Navy may have its Top Gun training school, but now the Army is sending its best of the best at systems management to a similar program at Google, to get training in industrial management tactics, techniques, and procedures.
Just like its flashier aviation counterpart, places at the Google program had to be earned competitively, and the chosen recruits will spend a year at the Chocolate Factory studying up on analyzing workflow data, specialized data science skills, and picking up the latest tricks of the trade from people in industry.
"I want to have a different perspective on decision making, theory, manufacturing, and problem solving," said one of the first-draft pick Major Matthew Bisswurm, plans and operations officer with the 903rd Contingency Contracting Battalion. "I think the Army gains ten-fold on this program. The experience and insight are immeasurable."
As with the Top Gun school, the Army's top systems analysts aren't just there to learn the latest cutting-edge data management skills. They have to be able to teach other people about them, too, when they go back to the Army. It's hoped that one year of deep geekery will pay dividends in terms of keeping troops supported in the field.
"We want our guys to benchmark lessons learned and effect positive change in the Army Acquisition Corps," said Scott Green, acquisition education and training branch chief of the Army Acquisition Support Center.
The 903rd Contingency Contracting Battalion (Motto: Paratus et Certus – Prepared and true) is never going to be mentioned in dispatches, but it does keep large sections of the Army in food, weapons, and communications contact. Besides stateside operations, it sends out roving teams of "expeditionary" specialists to sort out supply situations overseas, either internally or by dealing with local contractors.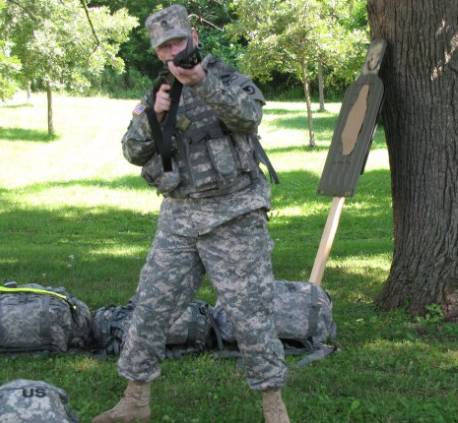 It's not all paperclips and pen-pushing at the 903rd Contingency Contracting Battalion.
Lest you think that the men and women of the battalion are a bunch of lily-livered panty-waisters who spend their time pushing papers in the rear, nothing could be further from the truth. Major Bisswurm has served two combat tours in Iraq before transferring in, and the battalion's own Staff Sergeant Shults came runner-up in the divisional "Best Warrior" competition last year, a trial of endurance marching, marksmanship, and battle drills, proving that a degree in accountancy doesn't make you a wimp.
"I love the expeditionary side of contingency contracting," Bisswurm said. "I love doing missions. Being in a combat deployment, I saw the direct impact contracting had on the warfighter." ®
Similar topics