This article is more than 1 year old
LOHAN plugs into some hot LiPo treatment
Vulture 2 rocket motor heater fired up and toasty
We turned up the heat a little this week at the Low Orbit Helium Assisted Navigator (LOHAN) headquarters, with the first test of our space-grade Polyimide Thermofoil flexible heater, intended to keep the Vulture 2 spaceplane's rocket motor nice and toasty as it it ascends into the stratosphere.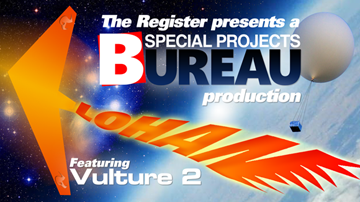 Initial tests of solid propellant thrusters in the Rocketry Experimental High Altitude Barosimulator (REHAB) chamber have proved that a motor can be persuaded to fire at simulated high altitude, but the effect of low temperature remains an unknown.
Having given the matter a bit of thought, we decided the best line of attack was to simply heat the rocket motor case. Cue our sexy flexible motor toaster: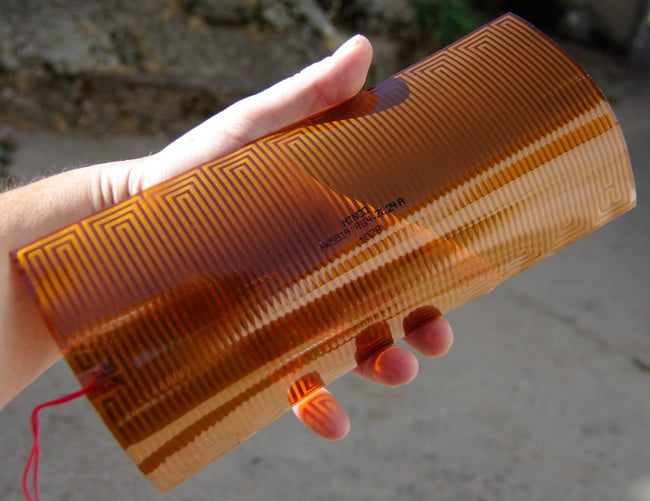 The cunning plan is to wrap the heater round the motor's aluminium casing, slap on a layer of space blanket and seal the whole thing on with heatshrink.
All well and good, but how do we power the thing? Because of weight considerations, the Vulture 2 can't carry the power source, so there are three options: a) preheat on the ground using an external supply; b) power from a battery pack mounted in the fantastical flying truss's electronics enclosure; c) or a combination of both.
The simplest and most desirable option is, in our opinion, b), because it keeps kit requirements down to a minimum and means we'll have continual heating from the ground to launch altitude.
Accordingly, we went in search of a battery which might do the job, and soon took delivery of one three-cell, 1300mAh Lithium Polymer (LiPo) battery (11.1V nominal), along with a charger unit and battery checker/watt meter: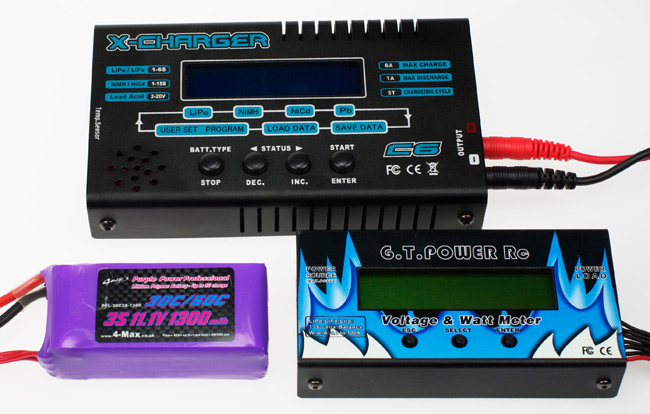 Those of you familiar with LiPos know they need a certain amount of TLC, so our charger unit is a proper bit of kit which can balance-charge the battery cells, meaning they're all topped up to the same voltage and capacity.
The battery checker offers a handy quick check of charge status and voltage...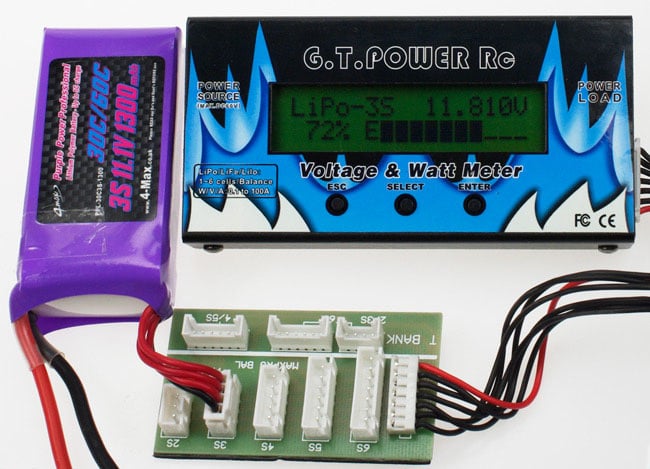 ...and acts as a watt meter when connected between battery and load, as you'll see in a bit.
The heater's effective area is 46.54 in2* (300.257 cm2), and its resistance is 64Ω. At 12V, then, it draws 0.1875A and pumps out 2.24W, which translates to a watt density of 0.05W/in2, or 0.0078W/cm2.
Yes, yes, we hear you impatiently cry, but what does that mean in real terms?
Well, we rigged the heater to the battery, via the watt meter, and plugged it in, with a temperature sensor on hand: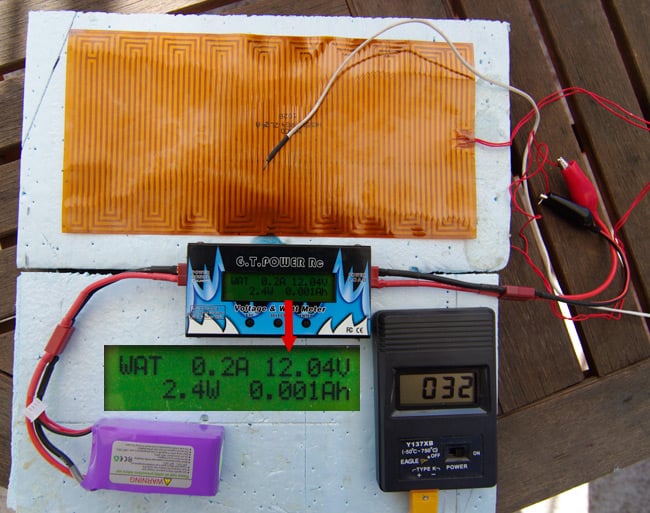 Ignoring the mAh reading above, which proved erratic, you can see that the system is running pretty well according to our calculations.
With the heater exposed, the temperature rise was very, very slow. That's no surprise, since we're not looking at a 240V 3kW electric fire here, and the heat loss by radiation is high.
However, when our toaster was loosely sandwiched between a couple of layers of styrofoam insulation, here's what happened, according to the temperature sensor probe, which was placed on top of the centre of the heater: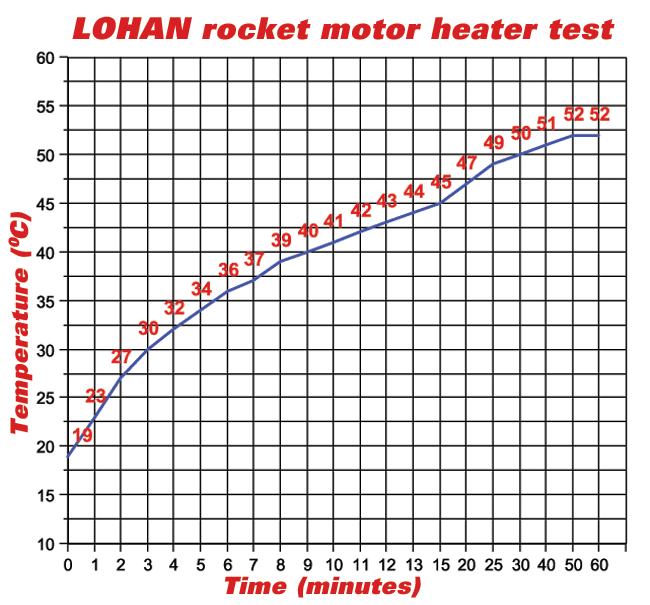 Apologies for the missing data at 14 minutes (the phone rang), but apart from that it's clear we have a viable method of keeping the rocket motor warm.
So, we started at the ambient temperature of 19°C, and the heater hit a maximum of 52°C after 50 minutes. This was maintained for the remaining 40 minutes of the test (last 30 minutes not shown on graph). Ninety minutes is more or less the total time we'll need heater power after leaving the ground.
The battery started the test at a charge capacity of 90 per cent, and at the end still had 60 per cent available.
These first results are highly encouraging. A temperature of around 50°C would be ideal, avoiding the risk of prematurely igniting the rocket motor, while providing more than enough heat to protect it from the -60°C chill at altitude. The battery weighs just 116g, so it's not going to be a major burden.
Obviously, the next step is to see how the heater performs when wrapped around the rocket motor. Ideally, it'll run as it did in our test, hitting a safe maximum temperature and maintaining that without the need for electronic control.
If temperature control proves an issue, we'll rig a thermostatic control system to turn the heater on and off as required. It's possible that the lack of air at altitude may prevent heat from radiating away from the motor, so we'll have to take care to avoid overheating.
As ever, your comments and/or suggestions are welcomed, so let us have your thoughts. ®
Bootnote
*The heater supplier is a US outfit, hence the first measurement in inches. We note that some of you believe it's time we went over exclusively to SI units. It's not a bad idea, since doing the conversions is a royal pain in the backside. We'll put this up for further discussion next week...
---
Further LOHAN resources:
---