Better late than never has been a popular analyst response to the UK's YouView hybrid connected TV platform, and it could equally well apply to the TalkTalk TV service re-launched on the back of that, just as BT Vision has been. It has got some things right, such as bundling the service free with broadband, and allowing subscription to premium content from Sky on a non-contractual monthly basis.
It is also wise to refrain from competing with Sky and BT to acquire premium rights itself, and focus, like the country's sole MSO of any note Virgin Media, on being a pure play distributor. Deep pockets are needed to compete in content rights, especially in the UK where football is so expensive, and there is little future for TalkTalk starting with virtually no TV customers, in getting into that, at least for now.
There is though one glaring omission in the absence of WiFi connectivity in the initial YouView set top, which is manufactured by Huawei. This will restrict the ability to move smart TVs around the house. It means some customers will end up buying additional equipment to connect TVs if they lack wired internet connections in the room they want to watch.
It will also preclude companion screen applications involving smartphones and tablets, because that requires WiFi connectivity. The result could be to hold back TalkTalk's inroads into Sky and Virgin Media's customer base, respectively 10 million and 3.7 million, while potentially enabling smart TV makers such as Samsung to steal an edge.
However, this deficiency is likely to be remedied, and arose because TalkTalk is clearly going for a low cost entry with its relatively lowly specified 320GB set top box, sufficient for only around 100 hours of HD content even with the latest MPEG-4 AVC compression. But it is sometimes forgotten that disk drives are still quite expensive items, with the plummeting storage densities tending to translate into increased capacity rather than falling unit prices.
TalkTalk's strategy is for TV consumption to percolate rapidly among its 4 million broadband subscriber base, much like BT Vision. Both are charging just £50 as an installation fee for a Humax made box of nominal value more like £300, and both are targeting their own broadband subscribers, while to an extent dangling TV as a carrot to lure customers from rival ISPs.
The importance of having a sizeable broadband subscriber base to push TV and other services is becoming ever clearer, BT being the UK leader with 6.36 million subs as of June 30 2012, and well placed competitively as 11 million homes are now passed by its BT Infinity Fiber To The Curb (FTTC) offering speeds up to 80 Mbps.
Mind you, this is more of an advantage for BT against Virgin Media than rival DSL based broadband providers such as TalkTalk, which are running services over unbundled BT lines and so benefit in practice from the same fiber penetration. The more important metric is the number of broadband subs, although of course each broadband provider will deploy technology to ensure QoS and cite that as a differentiating factor, as both TalkTalk and BT Vision do.
In fact there are significant differences between the TalkTalk and BT Vision YouView based offerings that reflect their history and where they are at now.
Although TalkTalk, starting in effect almost from a clean slate, is giving the basic TV service away once the £50 installation fee has been paid, BT Vision, having already around 750,000 subscribers, would not want to do this and is offering the YouView service to standard broadband subscribers for upwards of £5 a month depending on the package taken. However, it is bundling the service free to subscribers of its high end Infinity package, for a total of £18 per month.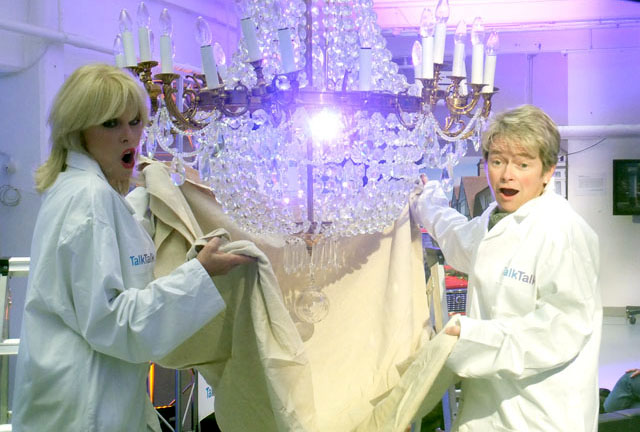 Many people, who have only just heard of TalkTalk TV for the first time after the injection of publicity provided by the launch backed by Joanna Lumley replaying popular TV moments, will be surprised to hear that it has roots going back 12 years, about double BT Vision's, and in pure play IPTV rather than a IPTV/DTT hybrid where the linear channels are provided by Freeview.
The original service called Homechoice was launched in the London area in September 2000, provided by Video Networks, with a triple play package of IPTV including VoD, telephony, and Internet access, over ADSL at speeds then that made provision of quality for linear delivery extremely challenging.
The service trundled along, being expanded in 2003 to incorporate most of the live channels then available on the Freeview DTT platform, until being acquired by ISP Tiscali in August 2006. The service was then rechristened Tiscali TV in March 2007, which then became part of The Carphone Warehouse after it purchased all of Tiscali UK's assets in June 2009.
The whole broadband service was then rebranded TalkTalk, and so TalkTalk TV came into being. It has been a good service as far as it goes, with a decent range of content including the linear channels, and like BT Vision using offline encoding technology from French based ATEME for the on demand material, which gives about as good quality a picture as you can get at a given bandwidth. The main handicap has been a lack of customers, which has never exceeded 50,000.
One difference between the two services is that BT Vision continued to rely on Freeview for linear channels, while TalkTalk TV delivered the whole lot over broadband. Until launching over YouView that is. Now TalkTalk takes the popular linear channels including those from the BBC and ITV from the Freeview bundle, which could be seen as a retrograde step as it is actually moving from away from broadband to terrestrial delivery.
But it is a practical measure designed to exploit the YouView box and avoid any quality issues there while broadband bandwidth continues to increase. And unlike BT Vision, TalkTalk does deliver the Sky Sports and Movie channels over broadband under the banner of ―Boost‖ services that do attract an extra subscription, of £5 a month for a starter pack, £15 for Sky Movies, and £30 for Sky Sports, with the ability to add any of the bundles for a month at a time. As an extra enticement, a year's subscription to Lovefilm Instant, worth £59, is thrown in.
In effect, the TalkTalk YouView package costs £24 a month without any of the extras, because customers pay £9.50 for rental of the BT line, and £14.50 for the TalkTalk Plus package into which the TV is bundled. The BT Vision version is slightly more expensive because in addition to the minimum £18 monthly Infinity subscription a line has to be rented, which BT is currently offering at £10.75 a month as part of the broadband offer.
Both are pitching at the 7 million or so Freeview households that do not currently have a pay TV subscription. This is becoming a new battleground, into which Sky weighed in with Now TV, launched in July. This was initially pitched as a counter to LoveFilm and Netflix, but as it will be available over the YouView platform and will also compete with BT Vision and TalkTalk in this emerging pay TV Lite arena.
It costs £15 a month for a package providing access to a movie catalog of 600, plus of course the line rental again. It is therefore slightly more expensive than TalkTalk TV, but comparing pricing can be misleading. On the face of it Now TV is far more expensive than LoveFilm or Netflix, which charge £5 and £6 a month respectively for unlimited streaming to the movie catalogue. But Now TV offers a better range of premium content, but against that some of it is reserved for pay to view at an extra cost.
And like TalkTalk and BT, premium sports will also cost extra. There is also a teething problem for Now TV in lack of HD, except for streaming to the Xbox 360, and it also incidentally lacks the cross platform bookmarking that Netflix supports. This enables subscribers to start watching a movie or show on say a tablet and resume later where they left off on a PC or smartphone.
QoE will be a differentiator for these services, in terms of the User Interface and search or navigation, as well as for front line picture quality. TalkTalk believes it has a trick up its sleeve here, and early experience looks good, although it has not actually confirmed yet which encoding technology it has used.
Copyright © 2012, Faultline
Faultline is published by Rethink Research, a London-based publishing and consulting firm. This weekly newsletter is an assessment of the impact of the week's events in the world of digital media. Faultline is where media meets technology. Subscription details here.