Stars spotted dancing superfast tango around black hole handbag
'Whoa, look at 'em go,' applaud excited boffins
---
Astroboffins have found a star whipping around our galaxy's central supermassive black hole so fast that it completes a circuit in just 11.5 years, which could help test Albert Einstein's theory of relativity.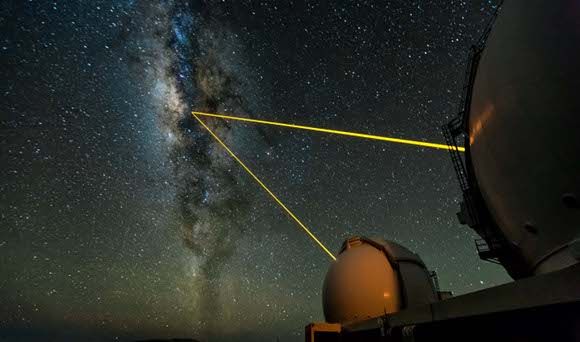 The orbit is the shortest known orbit of any star near a black hole, taking the star close enough to help figure out if Einstein was right in his predictions of how black holes warp space and time.
The star, known as S0-102, is in a group of stars near the centre of the Milky Way but it's only the second star with an orbit of less than 20 years. The other, S0-2, goes round every 16 years.
"I'm extremely pleased to find two stars that orbit our galaxy's supermassive black hole in much less than a human lifetime," Andrea Ghez, leader of the discovery team said.
Most of the stars have orbits of 60 years or longer and two short orbit stars are needed for the boffins' calculations.
"It is the tango of S0-102 and S0-2 that will reveal the true geometry of space and time near a black hole for the first time," Ghez said. "This measurement cannot be done with one star alone."
To agree with the theory of relativity, the celestial pair's light will need to change as their elliptical orbits take them closer to the black hole. If a star got close enough to a black hole, it would stretch out into a spaghetti of gas as it was sucked into the event horizon.
Neither S0-2 nor S0-102 will suffer that fate, but as they get closer to the black hole, the intense gravitational pull should still change the apparent speed at which light travels from the star, as seen from Earth. The effect should appear as light shifting further into the red or blue end of the spectrum nearer the black hole and more so than under Newtonian gravity.
"The fact that we can find stars that are so close to the black hole is phenomenal," said Ghez. "Now it's a whole new ballgame, in terms of the kinds of experiments we can do to understand how black holes grow over time, the role supermassive black holes play in the centre of galaxies, and whether Einstein's theory of general relativity is valid near a black hole, where this theory has never been tested before."
The boffins spotted the new star using the WM Keck Observatory on top of Hawaii's dormant Mauna Kea volcano. Their study was published in hefty boffinry mag Science. ®