This article is more than 1 year old
Target Silicon Valley: Why A View to a Kill actually made sense
Bond villain Zorin's plan wouldn't work today, though
Bond on Film A View to a Kill is generally regarded as one of the least successful Bond movies. Yet it stands out for two things: a suave villain who is deranged in an entirely believable way, and a villainous plot that appeared both logical and plausible.
While its box office performance was passable at $152m, on a budget of $30m, even Roger Moore accepted that at 57 he was too old for the part of James Bond. He was older than co-star Bond-Girl Tanya Roberts' mum.
But Christopher Walken won plaudits as the charming, plausible and fantastically deranged villain, Max Zorin. The result of Nazi steroid experiments on concentration camp inmates, he is co-opted by the Russians and groomed to be a hyper intelligent spy, before his money-oriented extra curricular activities recast him as a rogue agent.
Zorin was a very modern 1980s villain. There was the (possibly peroxided?) blond hair and impeccably cut suits which complemented the psychotic narcissism that was the unfortunate side-effect of his steroid-modified intellect. That mid-'80s gloss was further polished with the casting of Grace Jones as androgynous love interest cum hitwoman, May Day.
Like any self-respecting yuppie, Zorin was interested getting rich and this, combined with his interest in semiconductors, resulted in what is arguably one of the more plausible plots in the Bond series.
Or as Zorin puts to his potential co-conspirators in the chip industry, in a conference room aboard an airship bobbing over San Francisco: "For several years we've had a profitable partnership: you as manufacturers, while I passed on to you industrial information that made you competitive, successful.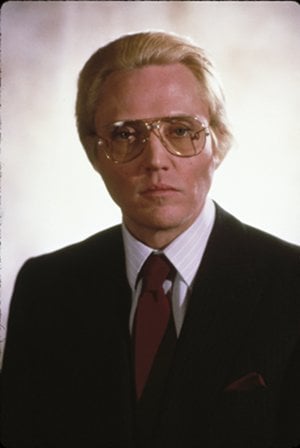 Christopher Walken's Zorin: a villain for the '80s PC revolution
"We are now in the unique position to form an international cartel to control not only production but distribution of these microchips... I propose to end the domination of Silicon Valley."
Thirty years on, re-examining Zorin's proposition shows how Silicon Valley - like Bond - has changed while also staying largely the same.
At the time, as now, many organisations wanted to end Silicon Valley's dominance of the chip industry. However, these efforts usually relied on some combination of government funding and protectionism and, occasionally, judicious reverse engineering.
This being a Bond film, Zorin's MO in achieving his strategic aim was more spectacular: a vaguely defined plan to pump water into the faults underlying San Francisco and the Santa Clara Valley to prompt a massive earthquake, potentially killing millions in the process. All of this viewed in real time, of course, from that airship.
Even as scriptwriters Richard Maibaum and Michael Wilson were putting together their plot, the IBM PC was popping up in offices and homes. Ridley Scott's groundbreaking Apple Mac ad had aired during the 1984 Superbowl. On the big screen, Tron and Blade Runner had both pitched computer technology into the heart of action films, and in the case of the former had even pushed a few techie terms like "input/output" and "user" into popular parlance. Calculators were essential items for schoolchildren. Chips were creeping into our lives.
But Silicon Valley was an almost mythical place. The term had been coined barely a decade earlier, and even as Zorin let his co-conspirators in on his plan, Maibaum and Wilson felt compelled to follow the phrase "Silicon Valley" with the explanation "near San Francisco".
The Valley itself consisted of suburbs, open country, commercial parks and Stanford University. While there were indeed still chip manufacturing facilities dotted around the sub-divisions and orchards even in the early 1990s, there were also vast empty lots waiting for the '90s PC explosion and the dot-com boom to choke up the place and bring Highway 101 to a crawl. No surprise, then, that the filmmakers set most of the action in San Francisco - a place with a recognisable screen personality thanks to films like Dirty Harry and - of course - The Towering Inferno.
But things were changing at breakneck pace. In 1977, the first year for which it publishes full figures, the Semiconductor Industry Association pegged worldwide semiconductor sales at $3.8bn. By 1984, when filming of A View to a Kill was underway, the chip business was worth $24bn and US firms accounted for between 50 to 60 per cent of this. It's fair to assume that much of that was designed, if not completely manufactured in the Valley. Zorin certainly thought so.
So, as one of Zorin's backers, coughing up a mere $100m and half your net profits going forward for a share of a chip monopoly would perhaps have been a compelling proposition given the sort of profit margins you might have expected to be making.