Deep-sea worm recalls Star Wars favourite
This Yoda, no spine has
---
A deep-ocean research mission along the Mid-Atlantic Ridge has yielded up an oddity: an invertebrate that called to mind the venerable Jedi, Yoda.
Yoda purpurata – that is, purple Yoda – is one of three new species of acorn worm the mission discovered, as reported in the current issue of Invertebrate Biology.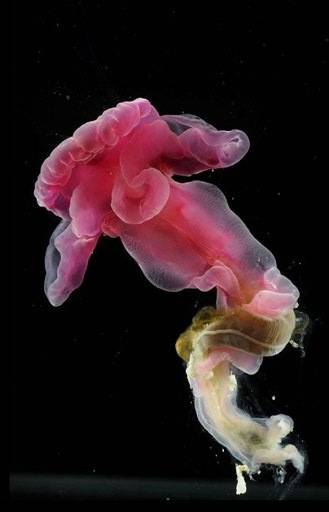 Don't whisper in Yoda's 'ears': they're lips.
However, the acorn worm probably exceeds the famous eccentricity of the Star Wars character: the features that resemble Yoda's ears (hence the name) aren't ears. As noted in this Press Association piece:
Professor Monty Priede, from the University of Aberdeen, said: "Our colleague in California, Nick Holland, the world authority on enteropneusts, chose the name Yoda for the new genus characterised by its large ear-like lips."
Acorn worms – enteropneusts – are studied because they provide hints at early vertebrate evolution (unless, of course, you take the side of Republican Paul Broun, a member of the House Committee on Science, Space, and Technology, who says that evolution – along with the Big Bang theory and embryology – is a lie from the "pit of hell").
Priede said the creatures "give an insight into what the lifestyle of our remote ancestors might have been like." Unfortunately, that lifestyle is best-described as "sucking scraps of nourishment out of the sea" rather than than "defeating evil adversaries with a light sabre while mangling English syntax". ®