A hundred million years ago, an amber flow spoiled a spider's day: it had waited, possibly for hours, to ambush a wasp in its web, and just as it decided to strike, spider, wasp and web were all trapped forever.
The good news for us is that it's turned up at a dig in Myanmar's Hukawng Valley, and here's what it looks like: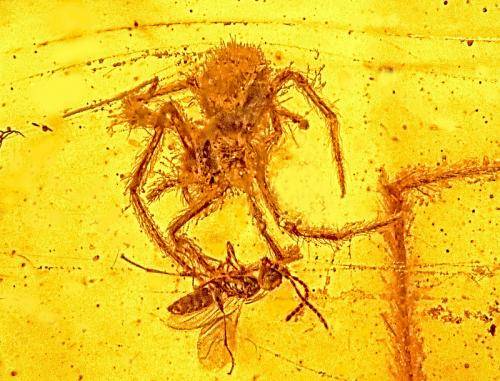 Caught in the attack. Source: Oregon State University
The Early Cretaceous fossil preserves – with stunning clarity – the juvenile spider about to make a meal of a parasitic wasp that was trapped in its web. As Oregon State University professor emeritus George Poinar Jr put it: "This was the wasp's worst nightmare, and it never ended. The wasp was watching the spider just as it was about to be attacked, when tree resin flowed over and captured both of them."
The findings, published in Historical Biology, represent the first time a spider attack has been found as a fossil. The spider is an orb weaver, Poinar said; relatives still exist today, although the kind in the amber is extinct. The wasp is a relative of species which today are parasites on both spiders and their eggs.
There are also fifteen unbroken strands of the spider's web also preserved in the fossil, the researchers say. More at Oregon State University. ®