If it had ever got off the ground, the US Air Force's 1950s flying saucer would have gone a long way off the ground: all the way to 100,000 feet.
A paper recently declassified and made public at America's National Archives details the project: a few million spent assessing the design feasibility of a flying saucer.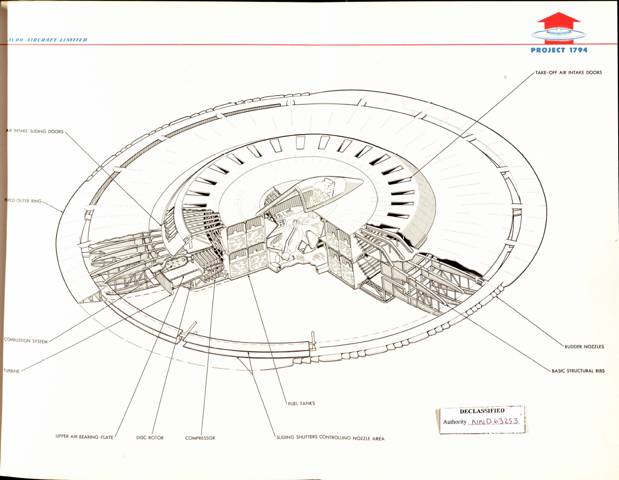 The USAF's recently-declassified flying saucer design. Source: US National Archive
The paper, dated 1 June 1956 – not April Fool's day, then – was written by Canada's Avro Aircraft, the contractor in charge of construction, and presents the final development summary of "Project 1794". The design brief for the aircraft was ambitious: as well as the 100,000-foot ceiling, it was to be a vertical take-off and landing (VTOL) aircraft with a top speed of Mach 4 and a 1,000-mile range.
Project 1794's propulsion was to be achieved by spinning the outer disk, exploiting the Coandă effect – the attraction between a fluid and a surface that are moving with respect to each other.
The National Archives post doesn't mention whether or not any were ever actually flown. At the time the report was prepared, the contractors seemed quite optimistic, stating that "the calculated thrust potential with the present design will provide a much superior performance to that estimated at the start of contract negotiations".
However, even with a modest $3.168 million estimate for further development, the Air Force doesn't seem to have ever built a flying saucer. ®