This article is more than 1 year old
Ubuntu goes fishing for donations with new download page
'Spare us a quarter for an ISO, sir?'
From now on, for every download of the popular Ubuntu desktop Linux distribution, parent company Canonical will be passing the hat.
Beginning on Tuesday, the download process for the open source OS includes a new screen that gives users the opportunity to donate – or rather, contribute – to the project via PayPal, with a suggested contribution of US$16 per copy.
Ordinarily, we tend to think of contributions to Linux and other open source projects in terms of code. But in a post to the official Canonical blog, the company's Steve George explains that all sorts of people contribute to open source projects in all sorts of ways.
"Even if they're not software developers they help out with testing, documentation, marketing, brainstorming or answering other users' questions in online forums. And people who don't have the time to help out directly have always been able to make a financial contribution," George writes, adding, "albeit in a not-easy-to-find spot on our website."
According to George, the purpose of the new download step is merely to make it easier for people to make those financial contributions – although some might describe the new contribution screen as having their noses rubbed in it.
Of course, none of this means Ubuntu is no longer a free OS. Although the initial donation rate is pegged at $16, downloaders can always to set it to $0 if they choose. They can even download the OS from some other source, if they prefer. But according to George, "every last cent helps make Ubuntu better."
Initially, most of those cents came from founder Mark Shuttleworth, the South African software entrepreneur who launched Canonical in 2004 with his own personal fortune. Since then, the privately held company has built a growing international business based on Ubuntu support and related services. But although it is thought to bring in eight-figure annual revenues, it has yet to achieve profitability.
Much as they love the OS, however, Ubuntu fans haven't always been pleased with Canonical's fundraising ideas. Recently, free software loyalists have been up in arms over the company's decision to include product suggestions from Amazon in Ubuntu's desktop search results.
On the plus side, one novel aspect of Canonical's new contribution screen is that it breaks the donation down by eight distinct activities, allowing contributors to vote with their dollars on where Canonical should focus the most attention.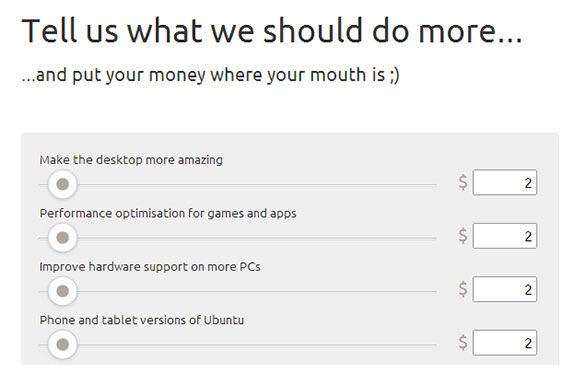 Just a few of the ways Canonical hopes to spend your hard-earned cash
For example, users who only care about improving hardware support for more PCs and optimizing performance for gaming can split their donations between those two categories. Users who care more about funding increased community participation and coordination with other open source projects can pitch their money there – in whatever amounts and whatever balance they choose.
"We're letting users name their price – depending on the value that they put on the operating system or other aspects of our work," George writes.
What's interesting, though, is that the donation page is only enabled for the desktop flavor of Ubuntu, while the alternative, more enterprise-friendly packages for servers and private clouds still allow direct downloads. Your Reg hack supposes it must be true what they say: when someone tells you "I gave at the office," they never really mean it. ®