Microsoft really is watching us all from above and even has a new way of doing so, thanks to this week's release of the UltraCam Falcon, a camera dedicated to aerial photography.
The UltraCam comes from an Austrian Microsoft outpost that Redmond says "brings more than two decades of photogrammetry expertise to Microsoft's Bing Maps business unit" and which "develops camera systems and software systems specifically for Microsoft's Bing Maps program. This includes fully automated orthorectification software being used by Microsoft to process many thousands of UltraCam images for the Bing Maps mapping platform and web site."
UltraCam appears to have grown out of Vexcel, a system integrator Microsoft owns and which specialises in geospatial applications.
The UltraCam line comprises three aerial cameras, the UltraCamLp, the Eagle and now the Falcon. Redmond can also sell you an UltraMount "GSM gyro-stabilized mounts" to hang your UltraCam out of a plane.
The new camera sits between the other two and is being spruiked as an upgrade and/or replacement in the mid-market aerial imaging caper.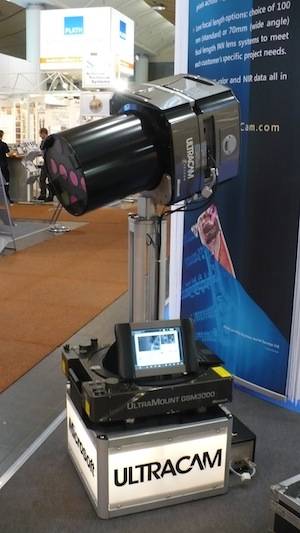 Microsoft's UltraCam Falcon aerial imaging camera, atop an UltraMount
The Falcon captures images at 14,430 x 9,420 pixels, generates 418MB per frame and spits images out as JPG or TIFF files. Those files end up in a special SSD-laden storage device with a capacity, after application of an undisclosed RAID level, of 3.3 terabytes. That's enough, in a craft travelling at 140 knots, to record eight hours of aerial imagery. Microsoft offers additional storage units for those that need extra capacity and don't want to touch between downloads.
The Falcon can even be upgraded to the top-of-the-line Eagle, a beast whose images reach 260 megapixels.
We've no idea if the upgrade technology involved can turn a Surface tablet into an ultrabook. But we're not going to give up on the idea. ®