Apple pays up for stealing design from Swiss Railways
Cupertinian cash covers clock copyright cockup
---
Apple may be willing to spend millions in court over some copyright fights, but it has learned the lessons of history and has decided not to mess with the Swiss.
Last month, Switzerland's railway operator SBB took Cupertino to task for stealing the design of its clock for iOS 6's Clock app. Now the world's favorite fondleslab manufacturer has agreed to pay up and license the design from SBB, rather than risk the wrath of the Swiss railways.
"For the use of the SBB station clock on devices like iPad and iPhone, the Swiss Federal Railways SBB and Apple have agreed and signed a license agreement," said SBB in a statement. No terms of the deal were announced, showing traditional Swiss reserve on matters of money.
The clock face, which uses a red second hand resembling a railway signal on a monochrome background, was designed for the SBB in 1944 by engineer and designer Hans Hilfiker while the rest of Europe was focusing on other matters. SBB owns the rights to the design, which it says is "a symbol of innovation and reliability is an important identifying feature of the SBB and represents Switzerland."
The SBB's clocks are also notable for displaying traditional Swiss precision. All the SBBs clocks synchronize with a master time controller every minute, ensuring that passengers can be sure that the trains are running on time. The red second hand completes a full sweep every 58.5 seconds and then uses the spare 1.5 second for synchronization.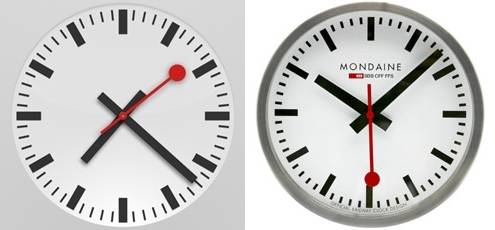 Apple's iOS 6 app on the left, the Swiss Federal Railways SBB clock on the right – spot any similarities?
Apple's speedy settlement could mean the company has learned a lesson of European history: don't mess with the Swiss. While the country may have been lambasted by Orson Welles in The Third Man, it's no pushover when it comes to standing up for itself and its interests.
For centuries Swiss mercenaries were among the most feared in Europe, which is why the Pope still hires them to protect the Vatican, albeit in very silly costumes. All Swiss men have compulsory military training, have their weapons ready at home, and for at least the last century the country's bridges, roads, and public buildings have been designed with armed defense in mind.
In the First World War, the German army decided against invading based on this defensive posture, and the country mobilized its entire army in just three days after the outbreak of hostilities in World War Two. Hitler, enraged by the Swiss air force shooting down Luftwaffe planes that strayed across the border, ordered invasion plans drawn up, but they were never acted upon.
There's also the fact that Switzerland holds an awful lot of Europe's money. While the SBB itself is not global powerhouse, it can draw on Federal funds – and no matter how many iPhones Apple manages to sell, it'll never be able to outspend the Gnomes of Zurich. ®