This article is more than 1 year old
Hands on with BB10: Strokey dokey
No time for 'Back' buttons - we're headed into the FUTURE
Preview There is no back button in BB10, BlackBerry's long-awaited new operating system, because all the screens flow so intuitively you won't need one - at least according to Canadian mobe-makers Research in Motion (RIM).
Instead, a series of swipes and pulls will let the user navigate the OS upon which RIM has pinned the survival of the BlackBerry phone family.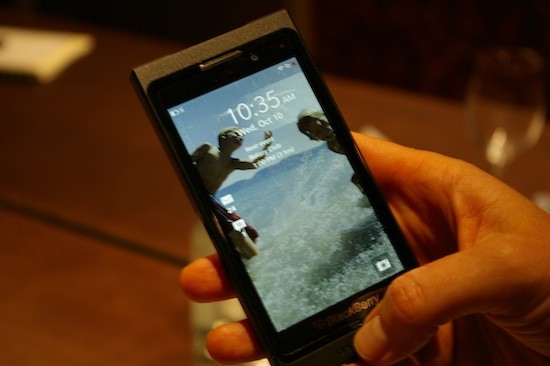 BB10: No back-button on this baby... the homescreen has notifications surfaced on the widgets on the left
RIM was slated to launch BB10 in September, with BB10-powered devices in shops by Christmas, but that's been pushed back to Q1 2013, and we're currently looking at the end of that quarter for the launch - March, rather than January.
The Canadian company is betting the family silver on the operating system working out: market share has been lost to iOS and Android and BlackBerry is scrapping with Nokia and Windows Phone for third place. And the buzzword with which it hopes to beat Apple and Google and Microsoft is "flow".
BB10, is all about flow and not "in and out experiences", said Roger Enright, European head of product for BlackBerry, yesterday in a demo of the system.
The big differentiator: open and shut
Enright identified the experience of having to open and close apps all the time as a key weakness of iOS and Android user experiences.
The BB10 interface starts off with home screen that fronts key information such as new emails and new messages. With a slide up the centre it opens to a landing page with "action frames" (ie, running applications) chosen by the user - up to eight large boxes with live information which can include a weather app, an RSS reader, etc.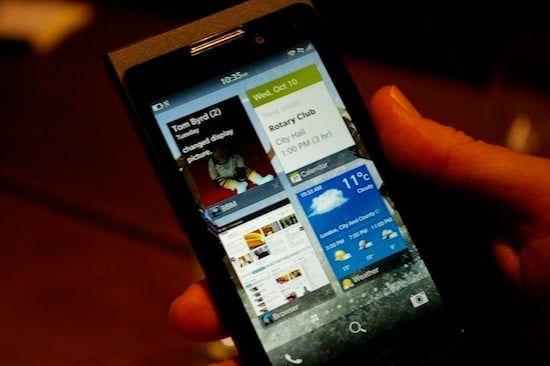 BB10's live action frames on the landing page
A swipe to the side opens a standard apps view, with screens fading out into the next one.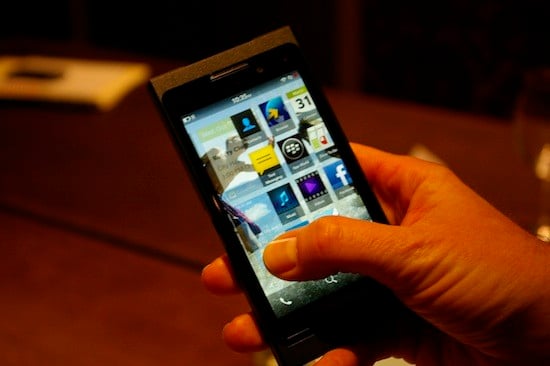 BB10: sliding to the left pulls up the app screen
The demo phone didn't have a physical keyboard - and we understand that at least one of the BB10 handsets next year will be all touchscreen - but RIM emphasised heavily that the virtual keyboard was almost as easy to use as its iconic hard one.
The demo OS has frets between keypad rows; an algorithm that works out where your fingers tend to land on the keys and adjusts the keyboard to your typing pattern; and a hyperactive predictive text that goes beyond even Apple's predictive text, by not only predicting what your next letter should be, but what your next word will be.