This article is more than 1 year old
Endeavour: donuts and a Toyota ease shuttle's drive through L.A.
Trundling to its final resting place at two miles per hour
If you're reading this right after we clicked The Reg's Publish button at 2:13pm Pacific Time on Friday, know that the Space Shuttle Endeavour is leaving its parking place near the corner of La Tijera Avenue and Sepulveda Eastway in Los Angeles, and continuing its journey to the California Science Center in that city's downtown Exposition Park.
In orbit, Endeavour traveled at around 17,500 mph (28,000 kph). It's now traversing the streets of L.A. significantly more slowly: two miles per hour (3.2 kph). When it, its 835,958-gallon (3,164,445 liters) fuel tank, and dual booster rockets lifted it off from Florida's space port on its 25 trips, it weighed 1,607,185 pounds (729,000kg). As it rolls through LA, it has trimmed down to 151,205 pounds (68,585kg), sans tank and boosters.
Endeavor left its United Airlines temporary-storage hanger on Thursday night at 11:25pm, and exited the Los Angeles International (LAX) airport at 2am local time. It arrived at its La Tijera and Sepulveda rest stop around 4am on the first leg of its 12-mile journey to its final resting place at the science museum – which has helpfully published a schedule and the route of the two-day trip. Endeavour is scheduled to arrive at its new home sometime between 6:30 and 8:30pm on Saturday.
Needless to say, moving a 122-foot long, 78-foot wide shuttle with a five-story tail through city streets required some preparation. Power and telephone lines were lifted, 2,180 steel plates were installed in the route to support the shuttle and its transporter, and 400 trees needed to be cut down – although the science center promises to plant a thousand new trees in their stead.
At around 4:15pm on Friday, Endeavour will park near the venerable Randy's Donuts at the corner of West Manchester and La Cienega, whose landmark giant-donut rooftop ornament is familiar to anyone who has travelled through LAX.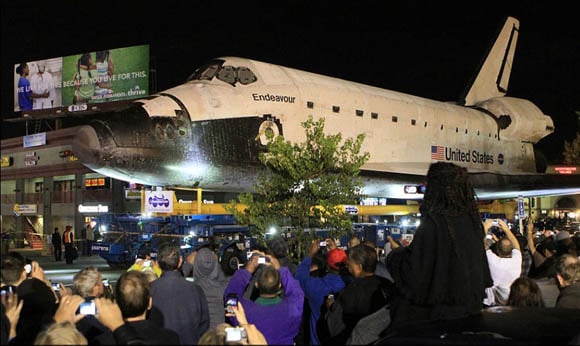 Endeavour wends its way through the streets of L.A. (source: Irfan Khan/The Los Angeles Times; click to enlarge)
In honor of the occasion, Randy's is featuring a celebratory iced shuttle donut. "Given how hard it might be to see the space shuttle Endeavour moving through our streets Friday and Saturday," Randy's writes on their blog, "why not skip the headaches and eat the shuttle instead?"
In another commercial tie-in, Endeavour will be towed for the last quarter mile (375 meters) by a 2012 Toyota Tundra CrewMax half-ton pickup truck. "The entire journey is something the world will be watching," said Toyota marketeer Ed Laukes, "and gives us a chance to prove that the 'overbuilt' Tundra is built to do any job – even tow the space shuttle."
You gotta love American ingenuity and salesmanship. Or not. ®
Bootnote
To provide shuttle fans – and who isn't? – a last look inside Endeavour, National Geographic stitched together 600 individual photographs to create a panable, zoomable 3.65-gigapixel image of its flight deck "powered-up exactly as it would be in space." It's definitely worth a few minutes of your panning, zooming attention.