This article is more than 1 year old
Boffins baffled: HUGE EYEBALL washes up on Florida beach
Does Cthulhu need an eyepatch?
A Florida beachcomber has discovered what appears to be a huge eyeball washed up on the beach, and experts are stumped as to what kind of sea creature it came from.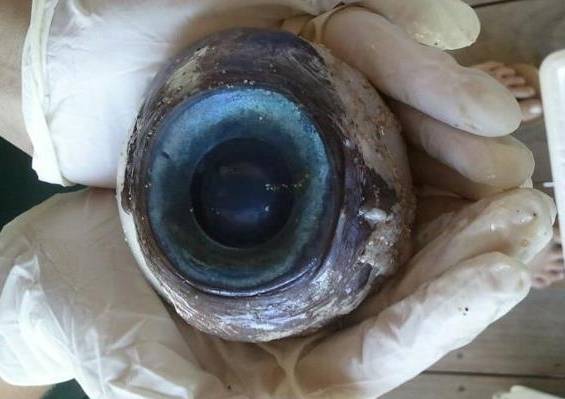 Eye, eye, what's all this then?
Local resident Gino Covacci found the giant eyeball washed up at the high-tide mark of Pompano Beach on the southeast tip of Florida. It was so unusual he called the Florida Fish and Wildlife Conservation Commission to try and find out what it was.
"It was very, very fresh," he told the Orlando Sentinel. "It was still bleeding when I put it in the plastic bag."
So far, the authorities say that they haven't identified the source of the object, but it's believed to be the right eye of a large marine animal. A swordfish is one possibility, since they are widely fished in the area, and a squid has also been mooted, since both need large eyes to see in deep, dark waters.
Sadly, visitors to the commission's Facebook page don't seem to be taking the quest for knowledge quite so seriously. Suggestions for the eye's former owner include the Lovecraftian creation Cthulhu, comic genius Marty Feldman, or Sauron, scourge of Middle Earth. ®