This article is more than 1 year old
Inside the mind of a Bond supervillain: Psychotic, autistic - or neither?
Also - 007's Dr Who style differing personalities
Bond on Film Without villains there'd be no James Bond. SPECTRE, SMERSH, megalomaniacal industrialists and media tycoons have all contrived fiendish, intricate plots to take over the world, seize its wealth, provoke nuclear war, destroy London's financial system, eliminate the human race etc etc. These people and their plots have needed to be stopped, and that's where 007 has traditionally stepped in.
In general villains fall into three categories. Most numerous is the nameless goon, minimum-wage spear carriers who are essentially a call-centre with machine guns.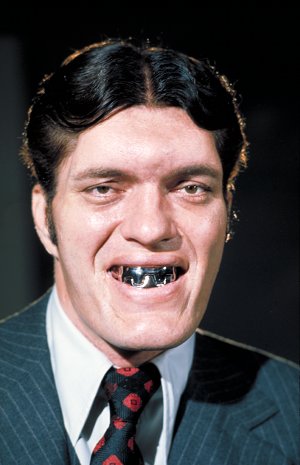 It's difficult to see past the smile
Then there's your élite henchman, the "end of level" bosses such as Oddjob, Jaws, Xenia Onatopp etc who are distinguished by strange physical features, special skills and/or weapons, minority sexual tastes etc. Their rewards for success are nebulous at best. The penalties for failure generally involve sharks.
But what of the third class, the brains and prime movers behind the plans? It's these upper-bracket villains who have the most appeal, who offer a more discerning evil career choice for anybody with a brain.
These generally tech-savvy (self-proclaimed) supermen are always the real villains. Whether you're talking about Dr No, Blofeld, Drax or Zorin, your scientists, industrialists and geniuses have figured prominently with their master plans to remake the world in their own image. Einstein said "intellectuals solve problems, geniuses prevent them," but in Bond's world, geniuses - generally enabled with some kind of advanced technology - are nothing but trouble.
Why are these men who want to destroy the world "people like us"? Other than the fact that in Skyfall the villainy is dependent on IT?
Mercifully in the real world we don't have to face all that many genocidal schemes to scrub the planet clean and start civilisation again. Not since Noah, anyway. But if there were evil masterminds at large today, where would they come from?
There are two essential ingredients. First, one must possess enough technical knowhow to concoct a scheme involving an orbital EMP cannon, humanity-extirpating nerve gas bombardment, ultimate computer virus etc. Second, it's essential to have the means to fund large-scale building projects (including but not limited to the hollowing-out of volcanoes, snaffling of space shuttles etc) while still maintaining sufficient cash flow to payroll a substantial private army (see above).
Let's look at a few possibles.
Rupert Murdoch:
Transparently the model for Elliot Carver in Tomorrow Never Dies, the workaholic newspaperman hasn't actually used a miraculously puissant stealth warship to precipitate a global conflict by machine-gunning helpless sailors adrift after sinking their ship. Not yet anyway. It seems implausible that he personally eavesdropped on anyone's voicemail, and even more so that he could have done so without technical assistance.
About the most evil thing Murdoch's ever done is treat a politician to a very agreeable lunch and/or colossal, possibly election-tipping media support in exchange for business concessions. And, his recent adoption of Twitter notwithstanding, he doesn't come across as the most technical person. He tends to outsource that kind of thing, so his schemes are more likely to be dull and pedestrian rather than madly, murderously original.
Julian Assange:
Well, with his bizarre appearance and his penchant for irritating the governments and intelligence agencies of the Western world Assange certainly seems to have some of the qualifications of a Bond villain. His name, too, definitely has the right ring to it. His propensity for snaffling highly classified secret files sounds like the kind of thing a Bond villain might get up to. And reports have it that he's certainly a bit, well, strange.
But hiding in an Embassy? And a two-bit little one at that? Either hollow out a volcano like a man, or get out of the business.
Osama Bin Laden:
Undeniably the most genuninely evil of the evil geniuses under discussion. If we allow ourselves for a moment to set aside the appalling murderous intent of 9/11, the repurposing of an airliner as a weapon would definitely have been seen as movie-plot stuff until it actually happened. And rumours persist (not least in the Bond films, for instance in the most recent Casino Royale) that he manipulated the global stock market in the wake of the attack to make millions for his twisted cause. Certainly the net effect of his campaign of terror has been to spark two ruinously expensive wars, if not an actual global nuclear apocalypse. Unless something happens to perk the Western economy up, he may yet succeed in his aim of bring us all to our knees.
Evil? Definitely. Brilliant? Possibly. Alive? Not remotely. That rather puts paid to world domination for Osama.