Have I got it in me, Doc?
On a less flippant note, I spoke to Alice Jones, PhD. She's a Senior Lecturer in Psychology at Goldsmiths' College, Univeristy of London. She's responsible for some influential research in the area of neuropsychological and neuroscience investigations of antisocial behaviour, including callous-unemotional traits and early psychopathic behaviour.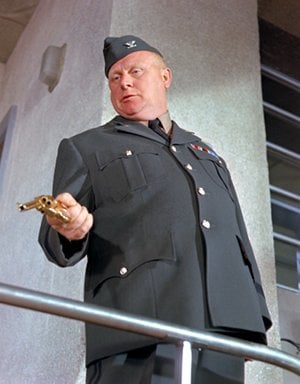 A vaguely sinister name is always good
What I wanted to know was:
"How would I know if I had the potential to be an evil genius? Or how would know if one of my co-workers did?"
"Psychopathy is best characterised by lack of emotional empathy for other's feelings - the inability to feel an emotional response to someone else's emotional state," says Dr Jones. "Imagine growing up like this - it's likely to create an individual who doesn't really understand guilt or fear. Their own biology means that their brains don't respond as strongly to fear and distress in the people around them."
Our expert continues:
"Psychopaths don't build normal friendships with people around them, rather they are motivated by status and social dominance. Being top dog is far more important than being liked. They are able to achieve this by taking advantage of others' natural capacity for anxiety, fear and guilt - treading on toes or intimidating others isn't a problem. Psychopaths also sometimes seem to have precious little personal regard. They are natural sensation seekers, but also behave in confusing ways to get what they want - there are cases of men who on being released from prison immediately go out to kill someone who they're harbouring some grudge against. They end up right back in prison, but for them, it was somehow worth it. Given that personal relationships aren't a priority, it's also common for psychopathic individuals to flit between 'romantic' relationships - many have lots of children, but don't care to provide for them in any meaningful financial or emotional way."
Whatever we might think of our line managers, though, there are comparatively few full-blown sociopaths in the modern workplace. There is, though, undoubtedly a correlation between other conditions like Aspergers' and the intense, narrow focus that makes for great coders. These autistic-spectrum disorders aren't by any means the same thing as being a psychopath, however.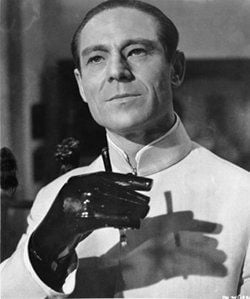 Imagine if he'd been Doctor Yes
"This is something I have explored in my own research, and broadly, while there are some observable behavioural similarities, they don't seem to be underpinned by the same deficits. So, while people with Aspergers can seem uninterested in small talk and social niceties (just as you'd imagine from someone with psychopathic traits), people with ASD are able to emotionally empathise (providing they understand the other person's thoughts and feelings in the first instance).
"Whereas psychopathic individuals are usually able to understand and recognise someone else's emotional state, they're just not moved by it themselves. This makes them excellent at manipulation. By contrast I think that it would be quite unusual for a supervillain to really be on the autistic spectrum."
Alice looked at a few examples from Bond lore for us too:
Blofeld:
"According to Fleming, Blofeld has a fairly plain sort of a history. He went to university, got a job in the government, then started insider dealing and trading with the enemy. I guess you could see Blofeld as the most like a modern successful psychopath - although his constant schemes to ruin the world take him a bit over-the-top."