This article is more than 1 year old
VR pioneer invents 'illumination-as-a-service'
VRML man Mark Pesce puts LAMP into lamps that REST at home
In the wild, early, days of the web, hopes were high that it would spawn or host virtual realities along the lines of those imagined by the likes of Vernor Vinge and William Gibson.
One of the most notable aspirants from those days was Mark Pesce, who worked on virtual reality headsets and authored Virtual Reality Markup Language (VRML).
VRML never scaled the heights. Pesce moved to Australia, became a teacher, television judge, speaker and, as of now, Kickstarter hopeful with a product today known as Light by Moores Cloud.
We say today, because yesterday the product was called LightCloud. A cease and desist letter from another user of that name later letter later, the product now pays homage to Gordon Moore and his eponymous law to celebrate the fact that the light-emitting device Pesce's venture offer contains once-unimaginable computing power at a tiny price.
That computer, based on the Bulgarian single board OLinuXino, has been hooked up to 802.11 b/g/n kit, runs the LAMP stack and powers an array of 52 LEDs arrayed in a translucent cube, three of which are depicted below.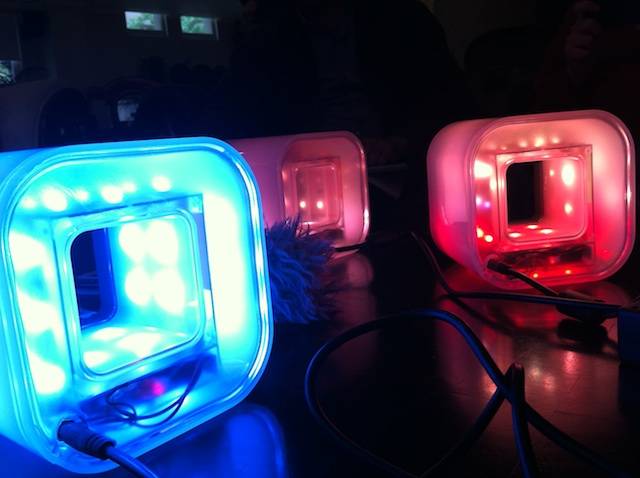 There's also an on-board accelerometer, so that when the cube is handled the LEDs' colours change into any of the two million colours they can display.
Each light can be programmed to do 'most anything. In a demonstration attended by The Register Pesce linked a light to data from Australia's Bureau of Meteorology. When fed data from a cold locations, the lights turned an icy blue. Offered data from the tropics, they emitted a warm yellow.
That kind of application led Pesce to coin the term "illumination-as-a-service", which he said caused him "to chuckle for an hour" after uttering it for the first time.
Operating as an ambient indicator of environmental conditions is one potential application for the devices, at home and in business. In the latter environment Pesce said he has already chatted to an enterprise who has imagined the device could be used to gently indicate when business processes are working well, and when service levels decline.
Another application Pesce has imagined will use a 'landing lights' feature built into the lights' software, that turns on lights in sequence. Pesce said a friend testing an early version of the devices said he could imagine a young child touching their bedside light, an act that turns on others between the child's bedroom and the bathroom, the better to ease urgent nocturnal navigation.
Moores Cloud plans to make the software and APIs for the product open, and to release apps that control its lights through the REST interface. Pesce said he hopes a developer community accretes around the device to find more uses for it. Moores Cloud will make money selling lights and creaming revenue from apps.
That will only happen if its Kickstarter, which opens next week, rakes in $US700,000, a figure Pesce said he is hopeful, but not certain, of achieving. Kickstarter projects that receive 30% of their funding targets often go on to acquire all their desired funding, he added, and if Moores Cloud hits that mark in two weeks he will feel it is likely to succeed.
Would-be investors will also be lured with a spreadsheet detailing the venture's financial plan, an openness initiative designed to increase confidence in the project. ®