This article is more than 1 year old
Windows 8 pricing details announced as preorders begin
Wacky retail packaging revealed
Microsoft revealed full pricing details for Windows 8 on Friday as Redmond and its retail partners began accepting preorders for the new OS, which will begin shipping on October 26.
Starting on Friday, customers can preorder an upgrade edition of Windows 8 Pro for $69.99 in the US or £49.99 in the UK.
That's for the full retail version of the OS, including a box containing DVD installation media. Customers who don't mind burning their own recovery discs – and who don't mind waiting until October 26 to pay – will still be able to use the Windows 8 Upgrade Assistant at Windows.com to download the upgrade.
They'll save some money that way, too. The online upgrade method is going for the discounted rate of $39.99 through January 31, 2013, and it's even cheaper with a PC purchase. Customers who buy a new Windows 7 system between June 2, 2012 and January 31, 2013 will be able upgrade to Windows 8 through the online method for just $14.99 (or £14.99 in the UK).
All told, the online upgrade to Windows 8 will be available in 140 countries, with support for 37 languages and 23 currencies.
Ah, but customers who download the Windows 8 upgrade will miss out on Microsoft's fancy new retail packaging. As it turns out, the swirly box design that leaked earlier this week was just one of five different versions that will grace retail shelves beginning in October.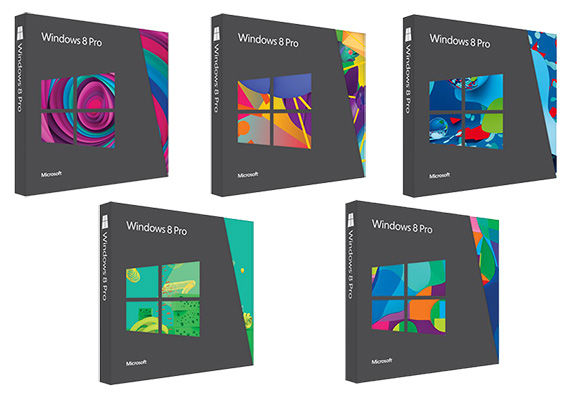 Boxed retail versions of Windows 8 come in five flavors of gobbledygook
In addition to the magenta-blue-green swirl design, there will also be greenish squiggles, bluish blobs, and orange-and-blue splatters to choose from – and they're all for Windows 8 Pro. Microsoft is offering an up-close look at all five selections on its Windows Facebook page.
According to Microsoft's Brandon LeBlanc, the new boxes are also more eco-friendly than they were for previous retail versions of Windows. With the exception of the DVD inside, the Windows 8 boxes are now made entirely from paper-based materials, which LeBlanc says helped reduce Redmond's greenhouse gas emissions by 80 per cent and cut the weight of the packages by 41 per cent, which means they consume less fossil fuel during shipping.
Observant readers will note, however, that so far we've only talked about upgrade versions of Windows. That's because there will be no "full" version of Windows 8 available in retail stores. Microsoft is assuming that most boxed-Windows buyers will already be running an earlier version of Windows, so that's where it's putting its focus for the retail channel.
That doesn't mean there will be no way to install Windows 8 without first installing Windows 7, Vista, or XP, though. Customers who need a full disc because they're putting together their own PCs or virtual machines will be able to order System Builder editions from select online retailers, which were also available for preorder starting on Friday.
A System Builder edition of Windows 8 can be had for $99.99, while the full System Builder edition of Windows 8 Pro is going for $139.99. (International pricing is not yet available.) Like the upgrade editions, these versions will also begin shipping on October 26.
Note, however, that System Builder editions have different licensing terms than mainstream editions of Windows 8. Most notably, once installed, Windows 8 System Builder licenses cannot be transferred to another computer.
There is a slight irony in all this talk of preordering Windows 8, however. Volume Licensing customers and subscribers to Microsoft's TechNet and MSDN programs have been able to download the Release to Manufacturing (RTM) version of Windows 8 since August. On Wednesday, Redmond announced that the first raft of updates for the RTM version are already available for download – meaning the boxed version that arrives in preorder customers' mailboxes will likely be out of date upon arrival. ®