Swiss photographer sues Apple for pilfering her eyeball
What is it with Apple and Swiss image larceny?
---
A Swiss photographer has filed suit against Apple in a US District Court in New York, alleging that Cupertino's marketeers used one of her photos without her permission in its MacBook Pro with Retina Display flack attack.
"Despite representing that it did not intend to use the photo and knowing that it had not obtained a license," the lawsuit, filed this Wednesday, claims, "Apple proceeded to copy, publish, and exploit Plaintiff's 'Eye Closeup' photograph, including in its MacBook Pro advertising campaign, keynote address, and related advertising materials without permission or compensation."
The photograph, taken by fashion photographer Sabine Liewald, was obtained by Apple from Liewald's New York agent, Factory Downtown, for "comping" – i.e., layout – purposes only. In addition, the lawsuit says, "Apple subsequently informed Factory Downtown that it did not intend to use the 'Eye Closeup' photograph in the advertising campaign for Apple's MacBook Pro computers."
Which Cupertino then went ahead and did "in various forms of advertising without permission for the Plaintiff," the suit claims.
The photo most used in MacBook Pro with Retina Display flackery is of a herd of zebras running through Botswana's Okavango Delta. That image, as mac-talks.com points out, was shot – on film, no less – by photographer Steve Bloom.
We're assuming Bloom was paid.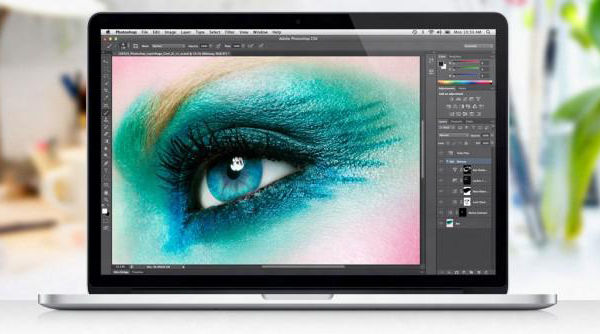 Swiss photographer Sabine Liewald's 'Eye Closeup' on the Retina Display of a MacBook Pro (source: MacOrg)
The brief appearance of Liewald's "Eye Closeup" in Apple marketing materials may indicate that its use was a mere oversight. Alternatively, of course, it could be that Apple was merely acting in a "We're Apple. We can do what we want" mode. We'll have to wait for the jury trial that Liewald has requested to find out.
Or, far more likely, we'll never find out – disputes like this one are usually settled with a nice payout rather than a day in court.
Leiwald and her lawyers, however, are putting the screws to Apple, big-time: the lawsuit seeks "defendant's profits" as related to the use of the shot, along with statutory damages, attorney's fees, and "any other gains, profits and advantages by defendants as a result of defendants' acts of infringment."
If the Swiss Federal Railways SBB can get Apple to cough up a check for using an image of its iconic clock without permission, we have little doubt that a Swiss photographer can do the same. ®