Android app dev dashboard update eases headaches
Reworked Google Play Console brings better UI, more stats
---
Google has overhauled the developer dashboards for its Google Play online store, with the aim of making it easier and faster for Android developers to publish, manage, and track the performance of their apps.
According to a blog post by the Google Play team, the search giant first demoed the new Google Play Console at its annual Google I/O conference in June and later opened it up to "tens of thousands" of developers in a limited beta program.
Beginning on Monday, the new interface is available to any developers who would like to try it out, simply by using the version 2 preview link instead of the regular Console URL.
The main focus of the redesign has been on making more information about a developer's apps more easily accessible. For example, the initial All Applications screen lists every app in a developer's catalog and gives an overview of the status of each. Developers can either page through the listings or narrow them down via integrated search.
Similarly, the detail page for each Android application package file (APK) gives an overview of its version history, including publication dates and the number of devices that are compatible with a given version of the app.
The Google Play team says the process for publishing apps to the store has been "completely revamped and streamlined," allowing developers to upload apps more easily, without providing as much preliminary information.
When a developer uploads a new version of an APK, the revamped Console also shows a breakdown of any changes since the last version – including device compatibility, screen support, feature requirements, and permissions – making it easier to spot any unintentional changes before the new version is published.
The process for listing apps in the Google Play store has also been improved. Developers can now work with every aspect of their app listings from a single screen, including localized versions.
The new store listings have been integrated with Google's machine translation technology, making it easier to reach customers in international markets. When developers make changes to their app listings using the redesigned Console, users have the option of viewing a translated version of the new text on the web today, and the same capability will soon be available on devices.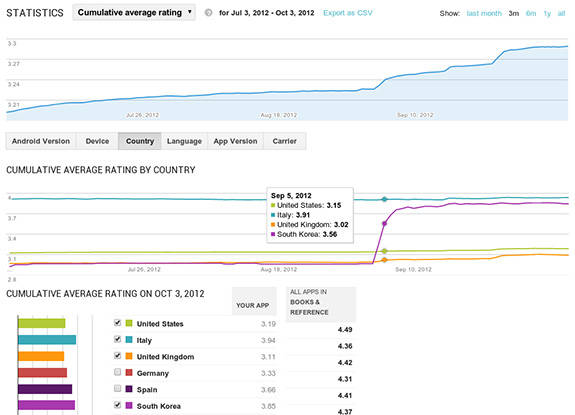 The spruced-up Google Play Console lets developers track user app ratings (click to enlarge)
Probably the most significant feature of the updated Google Play Console, however, are the new reporting features for user app ratings. With the new version, developers are able to track how users rate their apps, both in terms of their all-time cumulative ratings and ratings that come in on a given day.
The statistical data can further be broken down by device, country, language, mobile carrier, Android version, and app version, allowing developers to pinpoint potential trouble areas among specific audiences.
But although the Console redesign brings significant new features, it's still a preview program and it's not yet complete. As the Google Play Team points out, certain features – including support for very large apps and apps that use multiple APK files to target different device configurations – are still not handled by the new Console. Developers who need them are advised to stick with the old version, at least for now. ®