Engineer designs glass slipper on Quora
You shall go to the ball, Cinderella
---
This is merely a diversion, but a delightful one nonetheless: a mechanical engineer has answered a question posed on Quora, "What qualities would the glass in Cinderella's slippers need to have in order for her to walk and dance comfortably (and hold her weight)?"
In the kind of what-if that probably has Randall Munroe over at xkcd saying "I wish someone had asked me that", mechanical engineer Antariksh Bothale gives the perhaps-unsurprising answer that the slipper needs to be made out of something better than ordinary glass – thermal toughened glass should do the trick.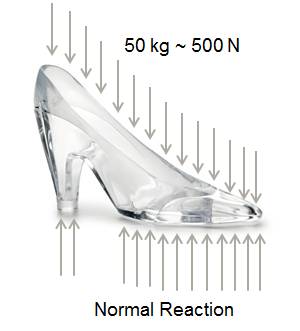 But the pleasure of the post is the journey rather than the destination. From the assumption that Cinderella probably weighed in at around 50 kg – not, therefore, the product of a fast-food diet – he works out a force of 500 N across the whole slipper.
Standing still, Cinderella is safe enough: she develops a compressive stress across the material of 33 KPa, and ordinary glass can handle compression of 50 MPa. However, if she's walking or dancing, the shoe – particularly its heel – will undergo a twist.
That, Bothale writes, gets a stress of 19 MPa in the heel which (because engineers like to make conservative assumptions) is "dangerously close" to the 50 MPa limit. Hence his decision to favour toughened glass, which can stand more like 200 MPa.
Lovely: even with the killjoy first-comment who points out that "glass" is merely a confusion in translation, and the original slipper was probably fur. ®