Asus N56VM 15.6in notebook review
Audio enhanced entertainer complete with a separate sub
A good journalist always tries to avoid clichés, but sometimes when I'm writing laptop reviews I do find myself reaching for a few stock phrases, such as: the speakers are crap. Imagine my relief, then, to discover that the speakers on the Asus N56VM don't fall into the crap category, but are actually rather good, no doubt helped by the fact that this laptop even comes with its own external sub-woofer.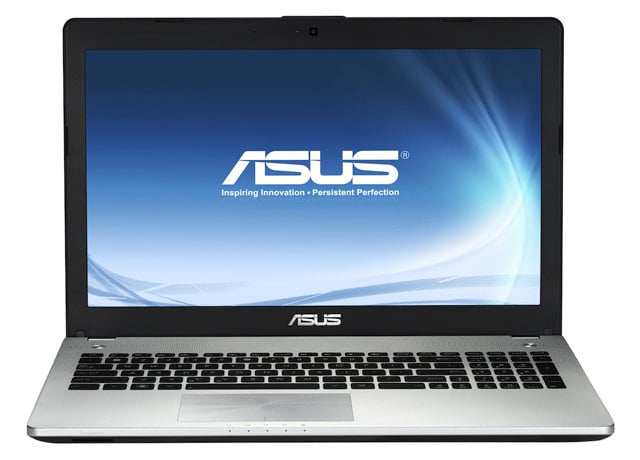 Sound idea: Asus' N56VM
Undoubtedly, the N56VM is focused on entertainment, offering a good set of multimedia features in addition to that unusual 2.1 speaker set-up. Things get off to a good start with the matt finish 15.6in screen, with its 1920 x 1080 resolution. It's not the brightest screen I've ever seen but the viewing angle is still good – close to Asus' claimed 150-degrees – so you can slump on the sofa and watch your films without having to set the laptop at just the right angle.

Blu-ray spinner on-board
Asus has also included a Blu-ray drive to make the most of the HD display, along with both VGA and HDMI interfaces for hooking it up to a larger monitor or TV screen. And, in addition to the headphone and microphone sockets, there's a special audio connector for the little sub-woofer.
You can use the laptop's built-in stereo speakers on their own without the sub-woofer, and even then they sound better than any other laptop speakers that I've heard recently. Higher frequencies manage to avoid the harsh, tinny edge that afflicts most laptops. The overall sound is fuller and warmer too, and does a decent job of rendering multi-layered Queen harmonies.

The sub gets its own output port to the left of the VGA interface
And, of course, plugging in the sub-woofer – which is about the size and weight of a small tin of beans – adds a little more body to the bass. It's obviously not going to have the roof rattling, but it does make a noticeable difference on bass-heavy tracks like Kylie's Can't Get You Out Of My Head.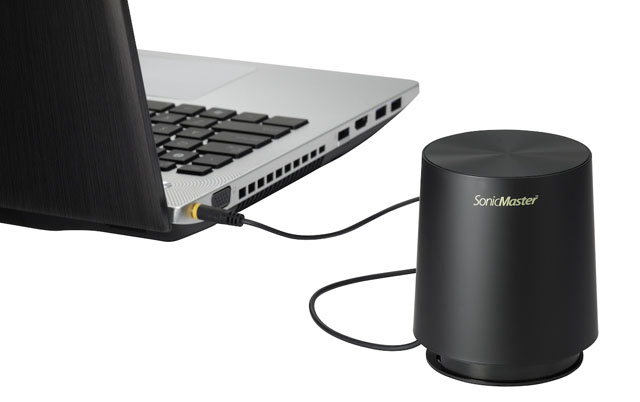 A separate sub is perhaps not the most elegant approach to getting more bass from a laptop, but it's certainly an effective one
The sub-woofer is just about small enough to slip into a backpack or briefcase when you're travelling. However the N56VM weighs 2.7kg on its own, so you'll probably want to leave the sub-woofer back home most of the time. Even so, the basic stereo speakers are certainly good enough for some casual music listening – which is something of an achievement in itself.