This article is more than 1 year old
Dishonored game review
Steampunk rocks in this tour de force of adventure gaming
Review Remember those Fighting Fantasy "choose your own adventure" books penned by the likes of Steve Jackson and Ian Livingstone - now whatever happened to them... - in the mid-1980s? Well, Dishonored plays like the ultimate version of one of those, offering choice in terms of strategy and approach at every turn.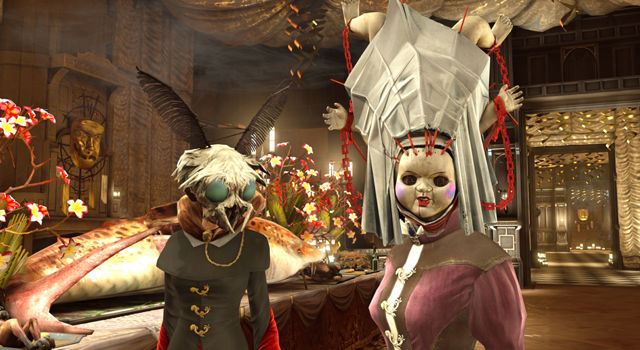 Dolly mixture
Perhaps that's exactly what to expect of a design team that includes veterans from Half-Life 2, Thief, System Shock and Deus Ex, but the final product is not only a revelation but just goes to reaffirm just how little variety and exploration is offered by a staggeringly high percentage of today's releases.
Yes, not all games would suit such grand and open design, but it's hard not to feel a little disillusioned by the direction in which some developers and publishers are pushing their triple-A titles.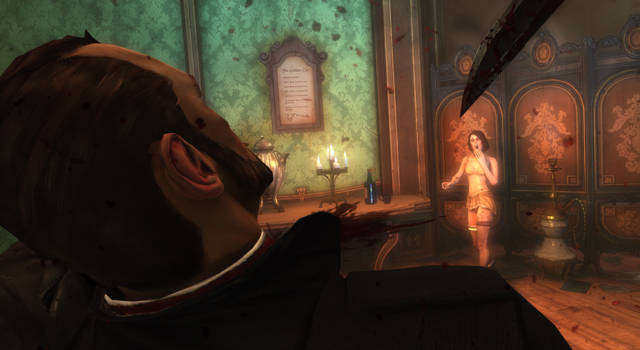 Sheesh'a
The hero of the piece is Corvo Attano, former bodyguard to the region's assassinated Empress. As sole witness to the crime he, of course, becomes chief suspect and is soon placed on death row. So begins his quest for revenge, against not just the perpetrators of the crime but also against the shadowy figures who ordered the assassination in the first place.
Corvo aside, the star of the show is the game's setting, with the city of Dunwall providing one of the most beautiful and interactive settings for a game ever realised.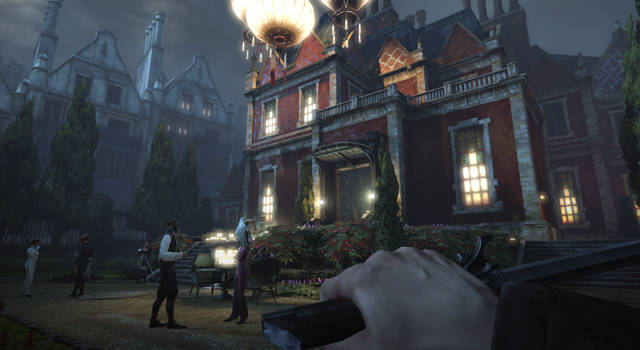 Slash the house party
Everything demands closer inspection, from grandiose structures to the most putrefied streets, and even the city's incidental details – graffiti on walls, conversations between guards and the booming Orwellian voice of order sounded over the city's loudspeakers – beg for attention.
Quite the looker
The hyper-realistic visuals, which more than one commentator has likened to a moving oil painting, are a major reason for that. Dunwall combined the style of the Victorian era with influences from steampunk to great effect. It's easy to see the touch of Half-Life 2's visual director Viktor Antonov, who has once more created a memorable locale.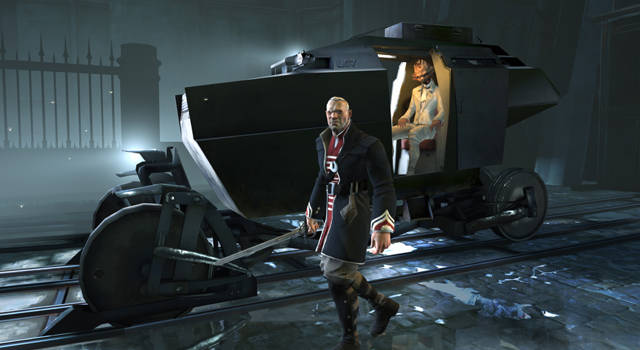 Prince of rails
Then there's the city's flux. Dunwall is a city falling into ruin – I've already mentioned the assassination of its Empress – but that's on top of its sudden and mysterious infestation by giant plague-carrying rats.
Disease has spread amongst the city's poor, leading to piles of uncollected corpses littering the streets and the declaration of martial law. Perhaps the decay is best summed up by the presence of "tallboys" - essentially war machines suspended on stilts - patrolling the city.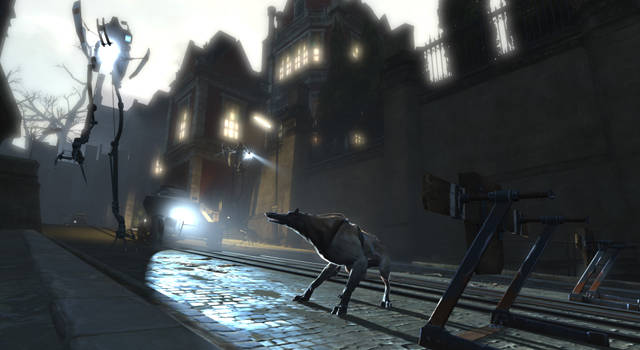 Barking up the wrong street
With the city's whale oil-fuelled power supply only providing dim lighting to all but the richest of residential areas, the city already has any number of deep, dark shadows, and these only get darker as the environment responds to Corvo's exploits, visibly thickening as the body count rises.
Choice in Dishonored is everything, and it's actually possible to complete the game without killing anyone at all. Not that Dunwall will suddenly become a heavenly place to dwell, but at least it won't get any worse.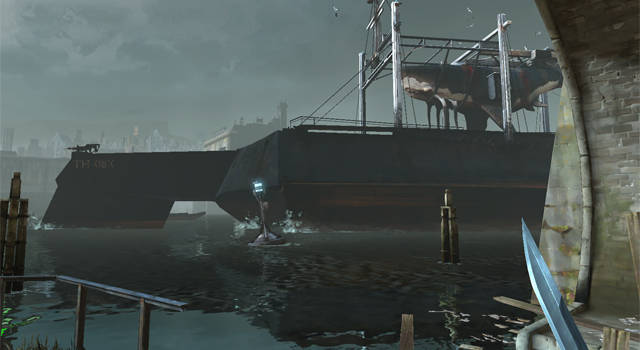 Harbouring resentment
There's choice too in the tools Corvo utilises to complete his objectives. During the game's opening section you'll encounter the Outsider, a mystic being who can bestow some of his own power on to those he deems worthy. Corvo is such a man, and so you'll soon have the option of unlocking all kinds of abilities in return for runes found secreted about the game's stages.
Powers that be
As ever it's up to you whether to go for benign powers – teleportation or possession, say – or the rather more wrathful types, such as calling swarms of devouring rats to eat your enemies alive. That said, how to use said powers is entirely up to you; you might conjure rats with the intention of possessing them, or you might use teleportation as a means to expedite a stealthy killing blow.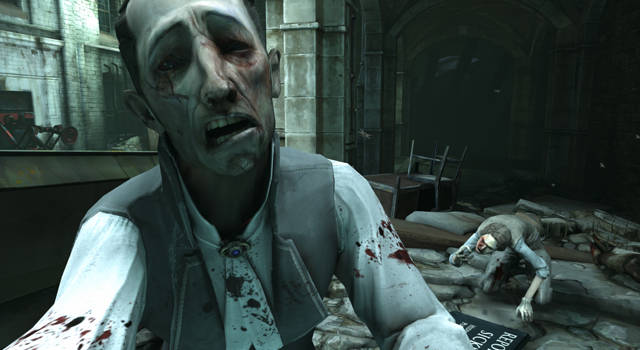 Big issue?
In fact, something you'll have to get used to throughout Dishonored is that there's almost too much choice, so intricate is the game's mission structure. It will often throw in mutually exclusive solutions to its puzzles, for example, so forcing you to replay the game if you don't want to miss out on a portion of that stage's content entirely.
Take a mid-game mission where you have to sneak into a masked ball hosted by your target, the corrupt Lady Boyle. First you'll actually need to identify which Lady Boyle it is you're after - no small task given she has two sisters - and then plot a way of killing, or else subduing, her without raising suspicion. On one play through I snuck Corvo up into the guarded second floor in order to work out the disguise of my target, before possessing her and marching her into a secluded spot.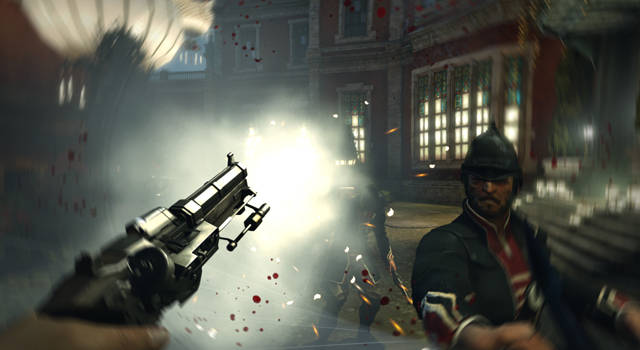 Bang out of order
On a subsequent try I discovered that another guest at the ball already knew of Corvo's intentions and so offered a non-lethal way of removing Miss Boyle. Alternatively, you might decide to simply kill everyone at the party, guards, innocents and all, with a combination of dark arts and nicely implemented - though particularly violent - first-person swordsmanship.
The decision is entirely yours, but without multiple attempts the chances are you'll be missing out on seeing everything. A mightily impressive decision for developer Arkane to have made, particularly considering it's doubtful the majority of players will see even half of the what's to be discovered in Dunwall's convoluted environments.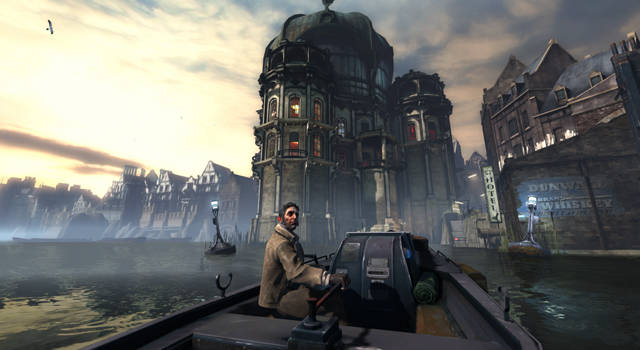 Boat so simple
Verdict
Complex, thought-provoking and inventive, Dishonored is perhaps the ultimate gamer's game: the kind of title we point at when those dismissive of the industry sneer. A couple of glitches, such as occasional screen tearing and the odd bug, fade into insignificance in the face of the sheer scope of one of this generation's most ambitious titles, which begs to be experienced. ®
More Games Reviews

Borderlands
2
Guild Wars 2
Darksiders 2
Lollipop
Chainsaw
Ghost Recon:
Future Soldier

Dishonored game review
What to do in Dunwall when you're deadly? Available on PS3 (tested), Xbox 360 and PC.