Calxeda plots server dominance with ARM SoCs
Prepping a MEEELLION-NODE fleet services enema for data centers
---
Brawnier clusters on the way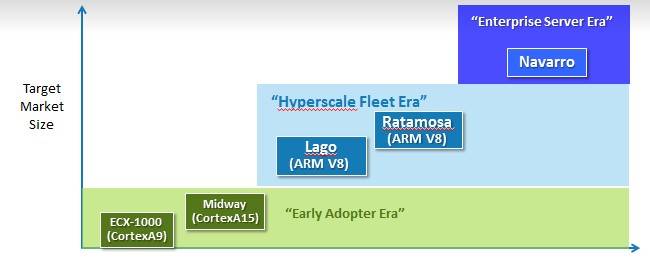 Calxeda's EnergyCore roadmap plots course to brawnier clusters
About a year later comes the "Lago" SoC from Calxeda, and in case you are wondering, Calxeda is picking its code names from a map of Texas and using towns that have 1,000 people or less in their population.
With Lago, Calxeda will move to the ARMv8 core, which has 64-bit processing and memory addressing and next-generation hardware virtualization circuits, among many other features. With this third generation SoC, Calxeda will add more cores, move to the 64-bit Neon floating point unit, offer faster single-thread performance, and add a significantly upgraded L2 switch interconnect that will be able to scale up to 100,000 nodes in a single cluster without having to add any external switches.
The company is not providing any more specs on this interconnect, but says it will have much higher bandwidth (obviously) and much lower latency.
This is a big deal, and it explains, more than anything else, why Intel has been buying up switching assets for the past year and getting paychecks to significant networking talent. Switching, not just network controller ports, is the next thing that is going to be integrated onto processors.
The Lago chip will sport about twice the performance (presumably compared to the Midway chip, and presumably on integer work) and boosted floating point performance (by how much, Calxeda is not saying). Again, no word on what chip process or what fab will be used for Lago, but it could end up being a 28 nanometer chip from TSMC as well.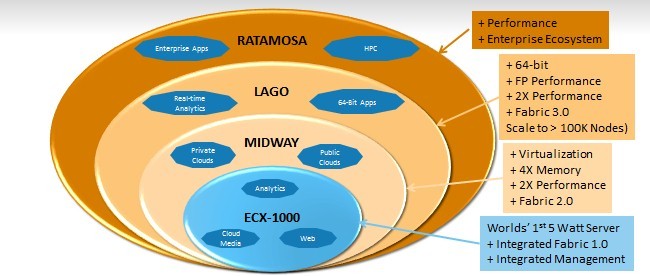 EnergyCore clusters get bigger, chips get more powerful over time
But that's not all. Calxeda has two more SoCs in the works as it plots its data center domination. With the future "Ratamosa" chip, Calxeda will be able to take on enterprise applications and high performance computing, and Microsoft might even have a Windows Server variant out by then. The company is not saying anything about timing on the Ratamosa chip, but it stands to reason that it will keep to a year cadence and we should see it around the end of 2015.
And even further out, the fifth generation "Navarro" chip is in development, timed for the "enterprise server era," according to Calxeda, which is coded talk for when the Linux and possibly Windows operating systems and various hypervisors are fully mature on ARM processors. Although Calxeda did not confirm this, this would be the logical place to get a distributed L2 switch interconnect into the field that could handle the 1 million nodes that some customers are asking for.
The ARM server race is afoot. ®