This article is more than 1 year old
Ancient 16m-yr-old beastie caught riding on much bigger flying mount
Astounding images of tiny aerial equestrian
A new 3D x-ray technique has revealed a tiny jumping wingless arthropod making a break for freedom after hitching a ride on a mayfly's wing - only to be caught in a drop of amber and frozen for the next 16 million years.
Scientists at Manchester University uncovered the ancient story when Dr David Penney and colleagues decided to try out a new imaging technique on a mayfly in an amber that was part of their fossil collection.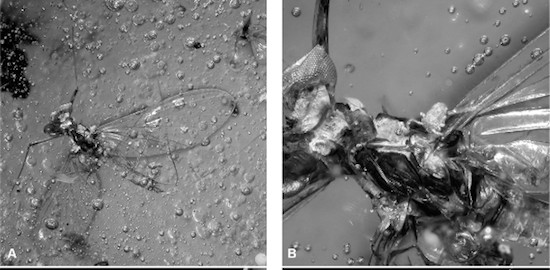 A photomicrograph of the 16-million-year-old fossil fly
Penney took over 3,000 scans of the amber drop using a high-resolution CT scanner - each at slightly different angles. Combined with software, the scans were made into a three-dimensional model of the fly that showed much more than was visible with just microscopes.
The amber contains an adult mayfly carrying a small arthropod known as a springtail. Prior to this study, scientists were unsure how springtails - 1-2mm creatures with the ability to jump, although they are not considered insects - had spread across the world. They suspected it was by wind, or hitching a ride on plankton in the oceans' currents. But this is one of just two pieces of evidence ever found of phoresy (using another organism for transport) in the springtail.
In this example from 16 million years ago, the springtail had attached itself to the base of the mayfly's wing by plunging its prehensile antennae into the bug.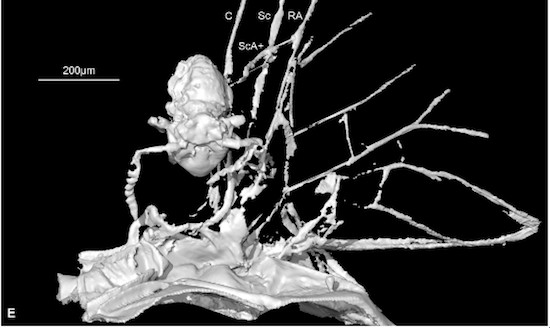 The high magnification on the 3D model shows that the antennae are just slightly withdrawn by a tiny 50 micrometers, suggesting that the springtail was just about to make a jump when he was caught. Possibly sensing the glob of resin that was just about to engulf him and his host.
Springtails still behave in this way and the Manchester discovery lets us trace this behaviour back 16 million years.
Dr Penney says:
The CT scan allows us to build up a 3D image that catches minute details of the animal. We can rotate the image to see parts of the creature that are obscured when looking from the outside in. In effect, we are able to digitally dissect the fossil without causing any damage to it whatsoever. This technology has revolutionised how we study fossils and the findings are incredibly exciting.
®
'Ancient Ephemeroptera–Collembola Symbiosis Fossilized in Amber Predicts Contemporary Phoretic Associations' was published in PLoS