Moon was formed when PLANET SMASHED INTO EARTH
'Theia' absorbed into core, lies beneath our feet today
That old theory that the Moon was formed out of fragments of Earth blasted into space after a massive planetary collision 4.5 billion years ago has gained support from two new studies.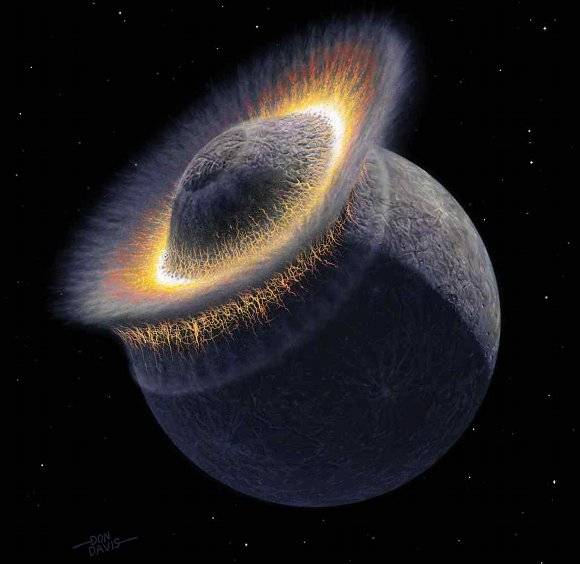 Boffins have tried to figure out exactly how a giant impact in our solar system made the Moon. Previous theories have suggested that the celestial body could have been made from pieces of the mysterious planet that crashed into Earth, but recent studies showing that Earth and the Moon have the same isotopic composition pour water on that idea.
To make the Moon out of the Earth however, requires different conditions for proto-Earth.
Matija Cuk of SETI and Sarah Stewart of Harvard reckon the Moon was formed by the rapid spin of the ancient Earth. If its rotation rate at the time of interplanetary dust-up was significantly speedier, giving a "day" of just two to three hours, the planet would have thrown off the necessary material to form the Moon.
If the Earth was spinning through a day of just two hours, it would be near the point when it would start to fly apart itself from rotation forces, making it much easier to throw away loose bits of itself. After that, the so-called "evection" resonance between the orbiting bodies of the Earth round the Sun and the Moon round the Earth eventually changed the planet's rotation rate to the 24-hour day we have today.
The other part of the mystery is the lack of iron on the Moon, which would be taken care of by the planet that smashes into the Earth, named Theia. In computer simulations, Theia has to be half the mass of Mars and strike at 20km/s in order to penetrate into the core of the Earth and throw material out some of which escapes Earth's gravity. In this scenario, Theia's iron core merges with the Earth's core, leaving the mantle to make the Moon, with a similar isotopic composition but a low iron content.
The second study, by Robin Canup at the Southwest Research Institute in Boulder, also backs the impact theory, but she reckons that the Earth and the planet that hit it were each around half of the Earth's current mass.
Both Cuk and Stewart's study and Canup's study were published in Science. ®