On-demand streamed music services compared
How Xbox Music stacks up against the competition
---
Feature As Microsoft Xbox Music upon the masses this week, streaming over 30 million songs to groovetastic gamers and Windows PC users, we decided to see how it stacks up against the competition.
The market is awash with Spotify-style streaming services, which vary in catalogue numbers, mobile support, pricing and their respective feature lists. The latest must-have option is an offline mode, allowing listeners to build playlists and cache their tracks for enjoyment in times of no signal.
Some will let you access their track catalogues for nowt, though there's always a catch: gratis songs are either offered solely as short-duration samples, or impose advertising upon you.
And don't forget, download services like iTunes and Amazon MP3 may be a better bet if you're interested in buying tracks to keep, or you don't want to cough up month in, month out.
And there are some darn fine free internet radio stations, some without ads, such as the excellent, eclectic donation-funded Radio Paradise, out there. You lose the ability to choose songs, but then you'll get to hear material you'd otherwise miss.
As you can see from our table below, punters will generally fork out at least a fiver for a standard unlimited subscription, a price that tends to double for premium mobile support features.
Services such as Grooveshark and Last.fm offer fabulous value for money, although the latter is more focused on customised radio stations based on musical preference, rather than directly choosing individual tunes. The former is priced in Dollars as well, so there may be additional currency conversion charges, depending on which credit card you use to pay for it.
Pure stakes a claim for a spot on the value podium too, but as we discovered in our Spotify vs Pure Music head-to-head review, the quality of tunes offered on the digital radio mogul's platform leaves much to be desired.
The quality and codec used is an important factor when splashing out and considering many of these companies remain rather hazy on specifics, it's often best to simply have a listen first, as long as the service allows you to, of course. Most provide an option for up to 320kb/s, though.
Either way, with Xbox Music's vast catalogue, competitive freemium model and broad features, it certainly looks primed to make a huge noise in the market. However, unless you'll definitely make use of it on your mobile device(s), it may be tempting to save a few bob elsewhere. ®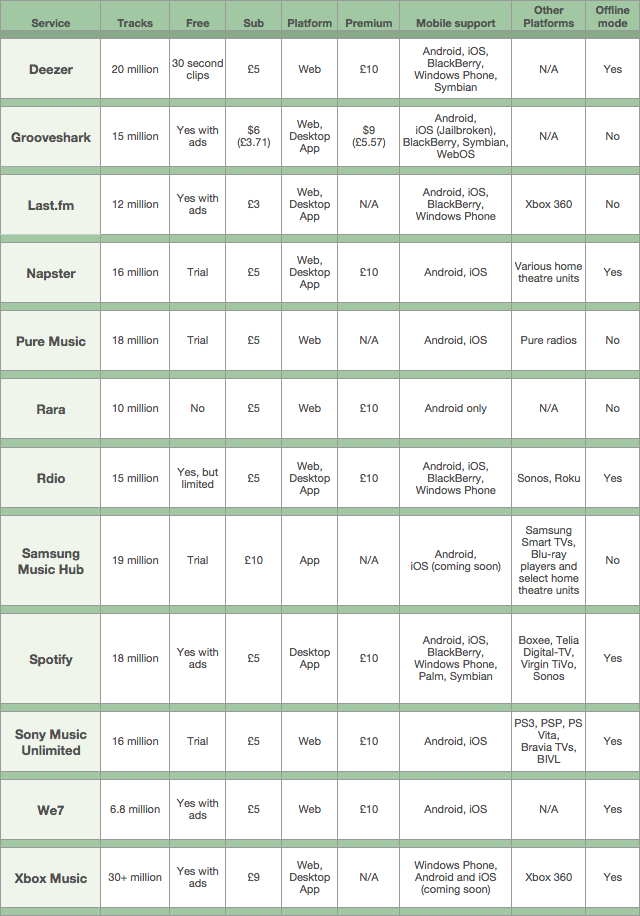 Similar topics
Narrower topics