Google announced the latest generation of its Chromebook browser appliances on Thursday, featuring a higher-resolution screen, an ARM processor, and a tablet-challenging list price of $249.
The new Chromebooks are manufactured by Samsung, although this time they have no specific model number. The South Korean manufacturer is now the sole partner in Google's Chrome OS experiment, Acer having discontinued its own Chromebook line in April.
The emphasis this time is on portability. The new Chromebook weighs in at 2.5 pounds (1.1kg), a 24 per cent decrease from the last generation, and its screen size is down to 11.6 inches from the 12.1-incher that Samsung previously used.
While the screen is smaller, however, Samsung has boosted its resolution slightly, swapping out the earlier Chromebooks' 1280-by-800 pixel display for a 1366-by-768 panel, as is standard on most mainstream laptops.
The revamp also marks the first time Google's boot-to-browser devices have been powered by CPUs based on the ARM architecture. While earlier Chromebooks were built around Intel Atom N570 chips, the new ones use Samsung's own dual-core Exynos 5 ARM processor.
The shift to ARM chips – which are more commonly found in smartphones, tablets, and other mobile devices – helps to explain how Google managed to set the price of the mini-laptops so low.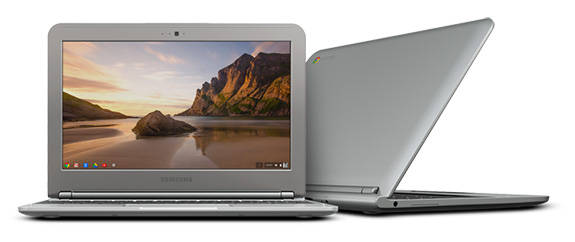 Samsung's new Chromebook: how does $249 sound to you?
While the Chocolate Factory has used various promotions to entice customers to try its browser-only devices, including renting them out for $30 per month, the list prices of earlier Chromebook generations have hovered uncomfortably close to the cost of a full-featured Windows laptop. Amazon currently lists the Samsung Series 5 550 Chromebook at $449.99.
Samsung's latest Chromebooks, on the other hand, are priced at just $249 – slightly higher than Google's Nexus 7 tablet but less expensive than Amazon's 8.9-inch Kindle Fire HD. They're also considerably less expensive that Microsoft's much-balyhooed Surface tablets, which will start at $499 without a keyboard when they go on sale later this month.
But low price is certainly no guarantee of sales. Google has struggled to sell customers on the idea of a device that can do nothing but run a web browser, and the new Chromebooks bring nothing new to the table where software is concerned.
Google hasn't released any hard sales figures for the devices, but some analysts have estimated that the search giant failed to move more than 30,000 units in all of 2011, back when Acer and Samsung were both building Chromebooks.
Undaunted, Google is planning a major marketing push for the new devices, based around the idea that the Chromebook is a computer "for everyone."
"For families, it's easy to use and share: for kids doing homework on the couch, parents catching up on emails at the kitchen counter and grandparents staying connected on video chat," Sundar Pichai, Google's senior VP of Chrome and apps, wrote in a blog post on Thursday. "There's no need to worry about security updates and maintenance is easy; all you need to do is charge the battery. It just works."
Still, Google's timing could be better. The new Chromebooks will face stiff competition from the wave of hardware that will accompany Microsoft's Windows 8 launch, to say nothing of Android and iOS devices – all of which can run a web browser and much more, besides.
With so many other options on the market, perhaps a better Chromebook slogan would be that it's a computer "for everyone who hasn't bought anything else yet." ®
Similar topics