This article is more than 1 year old
Canonical flings out Ubuntu 12.10 – now with OPTIONAL Bezos suck
Web-desktop love is our future
Canonical is bowed but undaunted after the bashing it took from Penguins over its recent integration of Amazon searches with its Linux desktop.
The company has promised further integration between web and desktop as it today released Ubuntu 12.10.
Asked by The Reg whether there would be more tie-ins like the one between its latest Ubuntu desktop and e-tail giant Amazon, vice president of products and communications Steve George said: "We will definitely look to extend that metaphor."
It was the fact that searches of folders on your Ubuntu 12.10 desktop through the Unity Dash feature would also bring back results from Amazon late into the 12.10 beta cycle that caused Ubuntu fans to rage over what information was going to Amazon.
Integration between web and desktop is part of the Ubuntu client mission these days, but it also pays off Canonical, as the Ubuntu developer also gets a split of revenue from Amazon if you click on the Amazon link.
After initially defending the feature, Canonical gave Ubuntu users the ability to simply turn off the Bezos suck.
Ubuntu 12.10 also incorporates search integration between Google Docs and the Ubuntu online music store.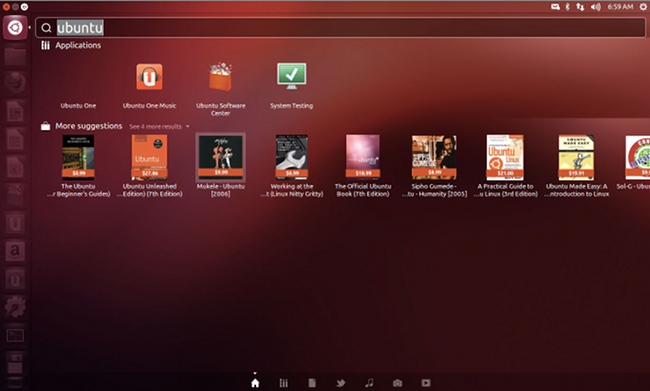 Amazon results added to your Ubuntu desktop Dash search returns
"People want to be online and we want to make sure their online and offline works together well," George said.
"The challenge for us is we do our development in the open," he said. "What we need to make sure is when we develop these features we are clear about what they are and why they are working and that we are protecting users' privacy."
Ubuntu 12.10 also integrates the Linux desktop with Amazon through a webified Amazon app, built using Javascript and HTML. The app sits on the desktop and opens up a Firefox tab to the e-tailer if you click on it.
Canonical is encouraging devs to build and submit their own web apps for inclusion in Ubuntu here.
George said: "We are looking to extend the web apps so they become local apps – so when you launch [something like] Gmail it should be an icon on the bar on the left and it should interact with other apps you are using."
There's more to Ubuntu 12.10 than just the client – there's the server, too. New features in Ubuntu 12.10 server include the latest version of OpenStack; the latest version of CEPH to pool and manage different storage; and GUI for Ubuntu's JuJu.
The interface allows you to spin up an OpenStack cloud and deploy resources such as an Apache Server or a database server graphically – so you are provided with a visual of the different elements and the relationships between them. ®