Nice feature, seen it before
Like the Lens, the Amazon app – and web apps in general – are another gamble on Canonical's part. Certainly for many people the line between desktop apps and web apps isn't important anymore. On mobile devices with nearly ubiquitous network connections, the difference between the two fade away. Perhaps web apps are a little slower in some cases, but at least you can get to the information you want most of the time thanks to 3G networking.
However, once web apps move to the laptop and try to become first class citizens, there's a risk that without WiFi all your apps will turn to blank Firefox pages.
Integrating popular websites into the desktop is hardly a new idea. Virtually every web browser on the market offers some way to pin apps to the Windows launch bar, and more sophisticated efforts like Mozilla's discontinued Prism project or Fluid for Mac OS X go further, turning the web apps into standalone apps that launch in isolated browser instances. Canonical's webapp effort isn't - thus far - that full-featured; it's closer to what web browsers themselves offer in Windows.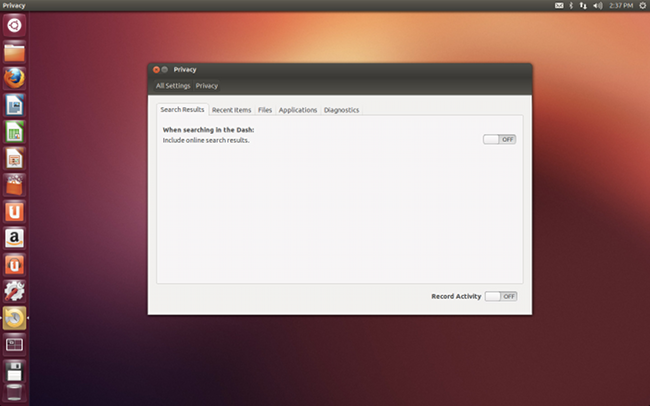 The Amazon kill switch stops Unity Dash automatically combining results from Jeff Bezos' giant with your desktop search
What you get amounts to a bookmark with a nice icon in the Unity launch bar. It's a start, though. And as HTML5 and its attendant APIs get more powerful, and are more widely adopted, the case for web apps on the desktop will be stronger. And that's where Quantal Quetzal seems to be aiming with web apps: the future.
With all the emphasis on Amazon search results and web apps, it's easy to overlook probably the best new feature in this release: Previews in the Unity Dash. In previous versions of Unity when you searched for an item the main action associated was to open it. That's still the default, but the new Dash Previews allow you to right-click on search results and see additional information.
What you'll see depends on the type of item you're previewing. Documents show the icon and offer to open, email or show on the desktop, while music files show any metadata and artwork you have associated with them. Applications show a screenshot and most of the info you'd find in the Ubuntu Software Center.
While much of the Previews feature amounts to a slick-looking, well-animated metadata browser in the Dash, there is one truly useful aspect that goes with the application previews: a button to install any app that isn't already available on your system.
Using the Dash and Previews you can search for, install and open a new application without ever leaving the Dash. You'd be hard-pressed to come up with a simpler, more intuitive way of getting new applications installed on your system. While you do still have to enter your admin password, Previews takes care of all the rest.
Ubuntu 12.10 features a revamped Update Manager that has been streamlined and renamed Software Updater. The app also now checks for updates when launched.
As with all Ubuntu releases, the usual updates to the full complement of GNOME apps that ship with Ubuntu are present in 12.10.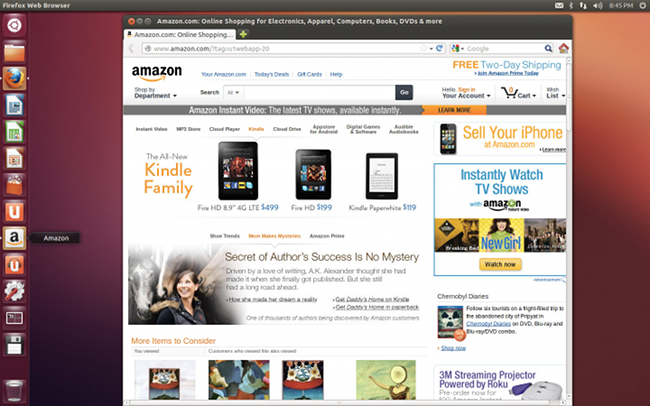 The Amazon web app: a bookmark with a nice icon in the Unity launch bar
From a purely technical standpoint Ubuntu 12.10 is a worthwhile upgrade - Dash Previews and lots of other little improvements make Quantal Quetzal, particularly the new version of Unity, a more pleasant experience. That said, this update is not for everyone, not even for every Ubuntu fan.
The Amazon Lens may be easy to disable, but it's more than just a new feature - it's a glimpse of what's to come. Look for more of the same in future releases.
And the way Canonical has handled the backlash paints a clear picture as well: Canonical is going to keep pushing in the directions it wants, regardless of what the user community thinks. The only question for users is: Is Canonical moving in a direction you want to go? ®