Apple has discontinued its own Java plugin, issuing an 'update' that removes it from MacOS and encourages users to instead download Oracle's version of the software.
The update, available now and depicted at the bottom of this story, advises users to install new software with the following effect:
Java for OS X 2012-006 delivers improved security, reliability, and compatibility by updating Java SE 6 to 1.6.0_37. This update uninstalls the Apple-provided Java applet plug-in from all web browsers. To use applets on a web page, click on the region labeled "Missing plug-in" to go download the latest version of the Java applet plug-in from Oracle.
It's not clear why Apple has taken this decision, but Sophos security researcher Paul Ducklin has blogged his opinion that this regime "may sound like a bug, but for most users, it's a feature," given Java's security issues. Ducklin even suggests Cupertino's decision may be related to Oracle's recent release of a security update for Java.
Mac users seem a little confused about what's going on, if this thread in Apple's support communities is any indicator.
The move leaves Cupertino hostile to Flash in browsers for mobile devices and Java in browsers for desktops. One anti-plugin decision looked picky. Two may look like a developing policy. ®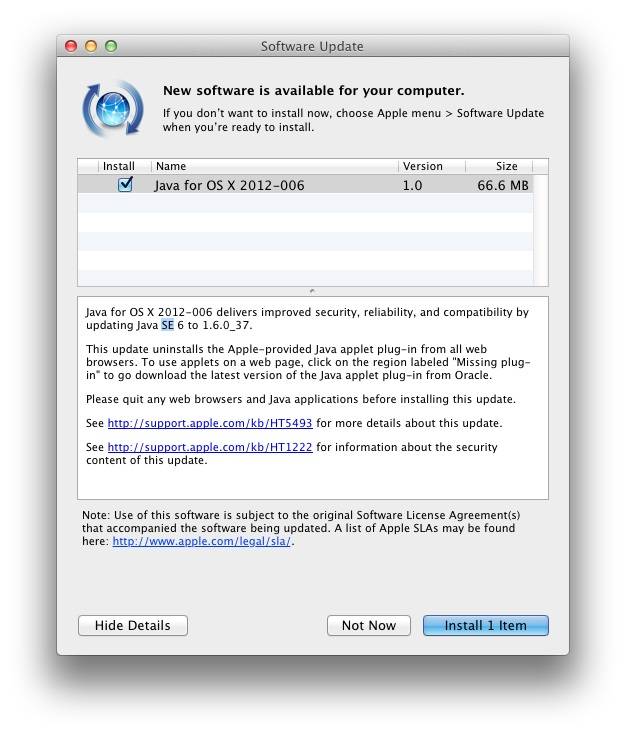 Similar topics