Poll Last week, Reg reader movie buffs voted Ernst Stavro Blofeld as the vilest Bond villain - and the sinister cat-stroking nutter certainly deserves the title.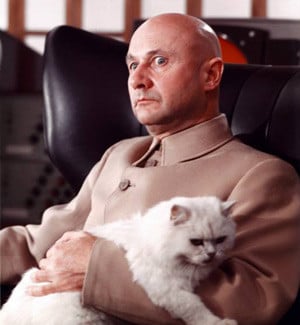 Kill Bond and bring me some Whiskas, now!
Blofeld first popped up in From Russia with Love and Thunderball, although fans didn't actually get to see his face until You Only Live Twice, when Donald Pleasence memorably tipped the unfortunate Helga Brandt into his handy piranha pit and barked at the trembling survivors of his wrath: "Kill Bond, now!"
Telly Savalas and Charles Gray subsequently interpreted Blofeld - in On Her Majesty's Secret Service and Diamonds are Forever, respectively - with Max Von Sydow taking up the baton in "unofficial" movie Never Say Never Again.
It's Pleasence's Blofeld, though, who is arguably the long-haired white cat's whiskers of the bunch, and who provided the inspiration for Austin Powers' adversary Dr Evil.
But what of those other ne'er-do-wells who vied for villainous glory in our poll? Well, Auric Goldfinger was placed second, with Jaws securing a lip-clanking third spot.
Trailing the top three were Max Zorin, Messrs Wynt and Kidd, Francisco Scaramanga, and Rosa Klebb.
Our poll proved highly popular, if somewhat controversial, and so we're about to turn up the heat with that most provocative of Bond questions: Just who is the best celluloid 007?
My own extensive experience of Connery-versus-Craig-versus-Moore pub debate, often heated, leads me to suspect that the answer has lot to do with at just what age you're first exposed to a Bond film.
This old timer was blown away in his teens by Sean Connery in Goldfinger and You Only Live Twice, so every subsequent actor is, to my mind, in the shadow of the Scotsman's impressive presence.
On the other hand, a younger friend of mine's first Bond experience was Roger Moore in Live And Let Die, so he's certain the eyebrow-twitching thesp is the definitive 00 number.
The whippersnappers among you may dismiss this as teary-eyed nostalgia, and come out in favour of Pierce Brosnan or Daniel Craig. Perhaps someone out there has a kind word for Timothy Dalton. My personal opinion is that he's an underrated movie Bond.
So let's get down to it, and do try to be nice to George Lazenby, who had an uphill struggle filling Connery's shoulder holster ...
Similar topics