ICO: Education ministry BROKE the Data Protection Act
But we have decided not to do anything about it
---
Exclusive The Department for Education broke the Data Protection Act after it exposed the email addresses, unencrypted passwords and sensitive answers of members of the public who filled in an online form about parental controls on the net, The Register can reveal.
However - despite the breach - the Information Commissioner's Office has decided that no further action needed to be taken against the DfE.
The watchdog said in a statement to El Reg:
We have contacted the Department for Education (DfE) over a temporary security flaw that was found on their website. The flaw related to a consultation taking place over the course of Thursday 28 and Friday 29 June. The flaw was resolved the following day but resulted in a limited amount of personal information being compromised.

Following our enquiries we have found that the DfE did breach the Data Protection Act. However, as the personal information compromised was not sensitive and any distress caused is likely to have been minimal, we have decided that no further enforcement action is required at this time.

We will be keeping a record of this incident and may revisit it again if further compliance issues come to our attention.
In June this year, the DfE released a 10-week public consultation document on parental controls that offered three scenarios to better "protect" children browsing the web.
The following day, we revealed that Tory MP Michael Gove's departmental website was suffering from a deeply embarrassing security flaw, which we notified the ICO about.
It followed readers contacting us about having their details exposed by the consultation site.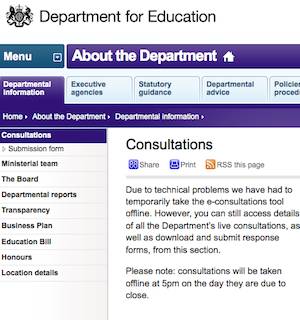 Since then, that section of the DfE's website has arguably been about as useful as a chocolate teapot by forcing any British citizens wishing to share their views on a variety of consultations relating to education policy in the UK to do so via a Microsoft Word document that they have to download, fill in and upload again.
Which is a total faff for taxpayers who are repeatedly being swamped with suggestions that the government is now stamping its authority over being "digital by default." But then, the Cabinet Office's Web2.0 whalesong clearly hasn't reached Gove's team yet.
Your correspondent can't help but wonder if the DfE is sweatily waiting for Directgov's rebranded, restaffed, relocated empire to fix its sorry website. The plans are certainly there for GOV.UK developers to prettify government department sites and group all of them under one single domain at some point between now and 2014, with costs for that project being taken from the existing £4.6m pot, apparently. ®
Update: A DfE spokesman declined to respond to The Register's questions about when its consultation site might be fixed. It's understood that all live consultations were exposed to the security flaw before the department took the system down – which was only after we informed the DfE of the glitch.
Gove's department said in a statement: "We took the site down as soon as we were made aware of a potential breach of the Data Protection Act and informed those who might have been affected immediately. The problem was detected very quickly so only a very small number of people were affected.
"We have taken all necessary steps to ensure that this will not happen again."
Similar topics
Broader topics