This article is more than 1 year old
FalconStor honcho rejigs storage biz: OEMs - who needs them?
McNiel fights to embulgen balance sheet
FalconStor CEO Jim McNiel is not quite a happy man, but he hopes to be one in a year or so. He is the president and CEO of a once phenomenally successful storage software start-up, and it's his task to restore the company's fortunes.
McNiel, formerly Falconstor's strategy chief, came into his position when he replaced the previous CEO, co-founder ReiJane Huai. ReiJane and Wayne Lam founded FalconStor back in 2000 after leaving CA, which had bought Cheyenne Software and its ARCserve backup product set in 1996 for $1.2bn.
FalconStor was another storage software company, focusing on data protection and storage virtualisation with a core IPStor technology that was used in SIR deduplication, virtual tape library (VTL), a Network Storage Server (NSS) and Continuous Data Protection (CDP) products. There is also a scale-out Hyper FS filesystem.
The company became dominated by Huai, who was a major share-holder, CEO and chairman of the board and a very, very clever guy. FalconStor revenues grew and grew, as the chart below shows, with a strong OEM sales focus, until 2009 when the brakes slammed on and small losses, tolerated while the company was growing, became large losses and growth stopped.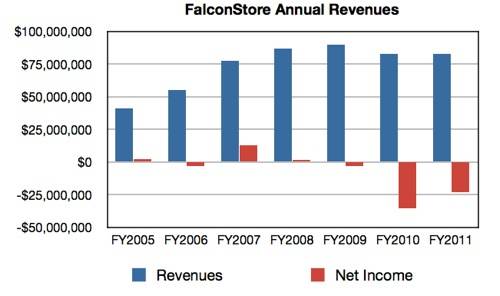 What had happened was that the company's OEMs had developed or acquired their own data protection and storage management products, shrinking the OEM income stream and causing competition for FalconStor's own products. Huai was alleged to have attempted to bribe a customer, resigned, was prosecuted by US authorities and then committed suicide – a tragic end to a great career.
The McNiel years
McNiel, who was chief strategy officer, having been hired through board-level concern that FalconStor's strategy needed optimising, stepped into the CEO-ship and found that, in order to stem the falling revenues and growing losses, moving away from OEM dependency, he had to re-shape the culture inside FalconStor. This has involved strenuous and continuing efforts, with losses and stalled revenue growth continuing as a quarterly revenue history chart shows.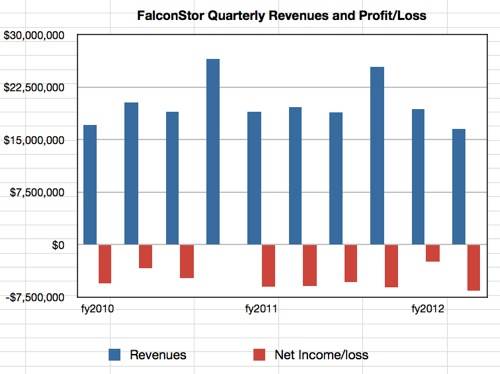 We caught up with McNiel at the IP Expo trade show in London, and he explained his approach: "I came into this company to try and make a change. ... FalconStor was a very strong provider of technology to OEMs. It is very different supplying branded product to business. A lot has had to change."
He has been three years in the company: year one with Huai as CEO; year two fighting fires, such as the significant decline on OEM revenue; year three re-building the company and its culture, which actually started in year two. The company has substantially renovated its product line and this involved re-architecting the products and using an agile development model. Culture changes included a renewed focus on company values, ensuring the firm was "behaviour-driven", and deploying web-savvy development, said McNiel.
The products have moved to a thin client:server architecture so that they could scale better. The intention is to continue to deliver the products on board today but return to double-digit growth through disruptive innovation in two areas.
McNiel: "CommVault and Symantec [in backup area] are innovator's dilemma case studies. They're ready to crash."
The first is disaster recovery (DR) for small and medium enterprises (SMEs). McNiel said: "Thousands of our customers understand CDP. We need to bring that technology to the masses." There is going to be "an entirely new presentation and backend."
The backend will be scalable have a policy-based engine. At the front there will be a single pain of glass. Customers will be able to download the product from FalconStor's website, install, configure and run it. We might expect this enhanced CDP product in the first half of 2013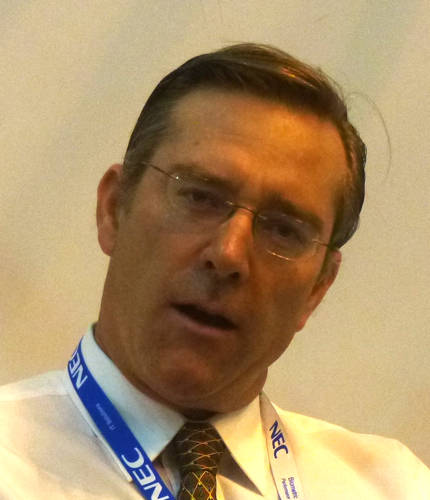 FalconStor CEO and president Jim McNiel
A second area ripe for innovation is in the VTL and deduplication area, where FalconStor reckons it already has the fastest deduplication product available. McNiel said:
Customers want the cheapest possible backend storage and the best possible performance to keep up with SANs. Today our product is the fastest in the market. There are many, many other ways to calculate hash tables than using an Intel CPU. There are many, many other ways to store indices than using DRAM.
Unpicking these two sentences gets us to the point where an ASIC or FPGA hardware is used to calculate hash tables and NAND is used to store the indices. Is this right? McNiel didn't say no.
He added this: "We will expand on our global deduplication vision [and] store data in its right place [and] tier data down to its logical resting place."
What he wants to do is: "steal a good deal of share from CommVault and Symantec in the backup area.... The next version of CDP will completely change the market. CommVault and Symantec [in backup area] are innovator's dilemma case studies. They're ready to crash."
We could expect another announcement casting light on this in the first half of next year.
He thinks SANs are over-priced and over-complex and sees business moving to run virtual machines stored in scale-out file systems with replication.
Money issues
The company's losses have been substantial. Its development work has been funded from its revenue stream and McNiel recognises the public perception is that the company is exposed: "A fatter balance sheet would make our customers much happier." He has to fight a lot of FUD from competitors, such as the company is going bankrupt and filing for Chapter 11. That isn't true.
McNiel said: "A lot of people see FalconStor as a significantly under-valued asset." There is funding available should FalconStor need it, perhaps through a secondary offering. The main investor in FalconStor seems to be Wheatley Ventures and it provides three board members, including chairman Eli Oxenhorn.
These investors have seen share value decline enormously. They were worth $13.95 in late 2007 and now trade at $2.19, 84 per cent less, with the company valued at $104.8m. The shares went down to $2.15 in 2008 and have basically hovered between $5.00 and $2.00 ever since. FalconStor was worth north of $667m five years ago; investors have seen their invested funds crash in value.
McNiel's been in place as CEO for two years, and aims to keep the company a producer of best of breed software sold through partners and in competition with products from the system, storage and server hardware vendors, many of whom are former OEMs.
Many of these vendors are singing the convergence song and that is a trend McNiel will have to fight or else find a way around, through coming to convergence arrangements involving FalconStor with partners.
Double-digit growth would be a welcome return and would avoid a horribly demoralising round of lay-offs and other cost-cutting measures if the product renaissance doesn't lead to increased sales. Is it a realistic hope? He is making a big ask of his company and its employees to deliver the product goods, but motivated people respond well to big asks.
If this comes off he will be a happy man, and feel able to take the AC Cobra in his garage out for a spin without a care in the world. ®