This article is more than 1 year old
Why James Bond's Aston Martin Top Trumps the rest
Reg motor maniac Oates gets mechanical - Now pay attention, 007
Bond on Film What car should James Bond really drive? It's a hotly disputed question.
Our man on film is closely associated with the Aston Martin, the DB5 initially and DBS V12 of late. Clearly the producers of recent Bond outings hope to identify their character with the spirit of an earlier time regarded as iconic and special. And they should, because the DB5 is both of these.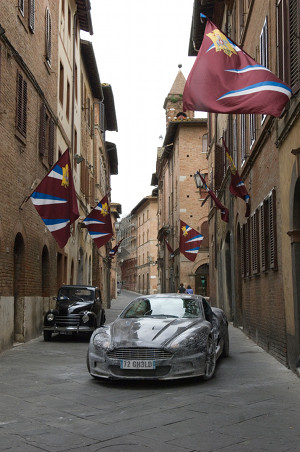 Snazzy ... but something's missing
All of which is rather odd, because the book that introduced James Bond - Casino Royale - referred to a 4.5 litre Bentley with an Amherst Villiers supercharger. However, this is Bond's personal car, and hobby, rather than work vehicle. We're told he bought it almost new in 1933 and stored it through the war.
"Bond drove the car hard and well and with an almost sensual pleasure."
The problem with supercharged Bentleys is Walter Owen Bentley said it "corrupted" the performance.
So how did Bond end up in an Aston on the screen?
Legendary Bond producer Albert Broccoli needed a car for his new hero. By the early 1960s Aston Martin was not his first choice. The car maker's DB4 had been released in 1958 and its next model, the DB5, was not much more than a tweak of the earlier model.
But Jaguar's E-type had set the world on fire that year. It had a slightly smaller engine at launch than the DB5, but was 500 pounds lighter and looked like no other car before it. By 1964 the engine had increased to a 4.2 litre brute not far off that in Bond's Bentley.
Broccoli supposedly called Jaguar to ask for a couple of E-types – the car had come out the previous year and was welcomed by Enzo Ferrari as the most beautiful car in the world. It cost half the £4,175 an Aston-Martin would set you back.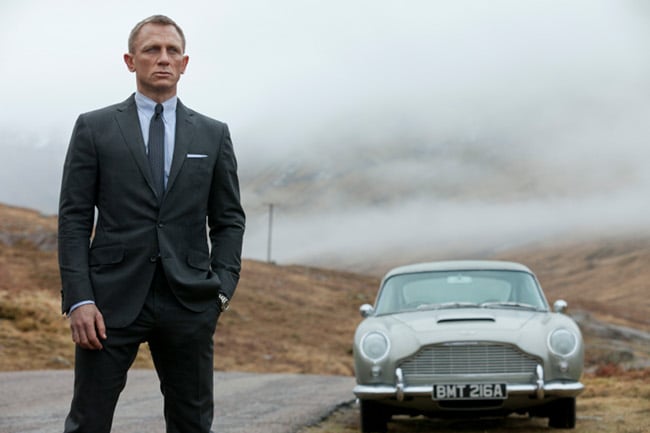 Craig ready for Skyfall. Good to see the old ways being kept up
So Broccoli rang Jaguar boss Sir William Lyons and asked to borrow a couple for the film. Lyons told him to get stuffed. To be fair to Lyons his firm was already struggling to make enough E-types to satisfy the public clamour for the car.
So Broccoli phoned Aston Martin and Bond ended up in a DB5 instead.
At that time Aston-Martin made about 1,000 cars a year and would be an unfamiliar make to all but the geekiest car fan. The silver-birch DB5 only appeared on screen for about ten minutes in Goldfinger but it has become completely synonymous with the character – it has had cameos in several other Bond films.
In fact the model silver-birch DB5 is still being made and is the company's biggest ever seller – over a million were sold by the end of the 1960s. Jaguar's decision has meant that prices for Aston Martin DB5s start at around quarter of a million quid, and an awful lot of them now seem to be silver-birch.
Broccoli of course was right – Connery should have been in an E-type. It was the car of the 1960s, and it put the phallic into phallic symbol. And the ever so slightly caddish Bond would have been the perfect fit with a Jag. How would we look at Jaguars now if they had been Bond's car rather than Austin Powers'?
Aston-Martin, having scored such a massive coup, then failed to recognise the publicity value of the two motors Broccoli used - one car for distance and driving shots and one with the gadgets. Two further cars were made to help publicise the film and one of these sold last year for $2m.
Top Trumps: E-type vs DB5
So just how did the E-type stack up against the DB5? Both cars offered similar performance but the E-type would get you round corners quicker.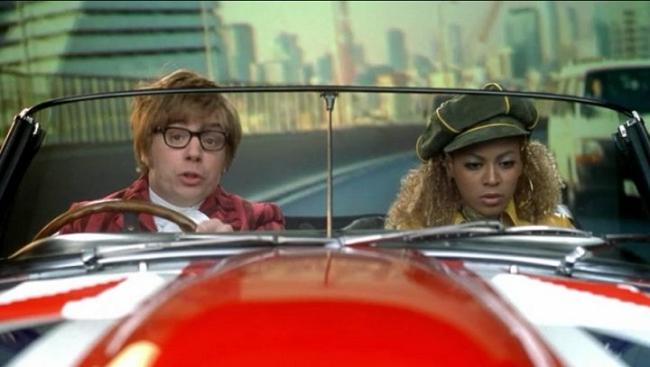 It should have been Bond at the wheel, not this fool
The DB5 featured a Superleggera body based on a hard-wearing, lightweight aluminium alloy called Duralumin, as used in Zeppelin airships and other flying machines. It had 4-litre straight six engine, three SU carburettors and five-speed gearbox, servo-assisted disc brakes and offered 282 horsepower at 5500rpm. Top speed was 142mph, and the car could go 0-60 in 7.1 seconds.
The E-Type had all independent suspension, unlike the DB5, with a Monocoque chassis design and an XK engine that was produced from 1949 to 1992. The car packed either a 3.8 litre powerplant that produced 220 horsepower or a 4.2 litre job that produced 265 horsepower, and in 1971 there came an even more outrageous 5.3 litre V12 engine. The E-type also came with servo disc brakes all round. Top speed for the cat beat the DB5 - 150mph flat out and 0-60 in 6.7 seconds.
Neither car was entirely new even then but both perform well enough, in a straight line anyway, to hold up against modern competition. Both have top speeds of around 150 and their 0-60 times at well under ten seconds remain respectable even today.
The E-type drew heavily on Jaguar's D-type racing machine for inspiration. The DB5 used the same engine as the DB4, which was not far from identical to that in Aston's racing cars of the 50s. It did get a better, five speed gearbox.