Hoard of the things
It might explain why I still have our old PlayStation 3 under my desk despite it having suffered irreparable YLOD - the hairdryer treatment failed - at the beginning of this year and despite its shiny brand-new replacement happily operational next to the TV in the lounge.
It also explains why I keep several large boxes of old gear and components "just in case".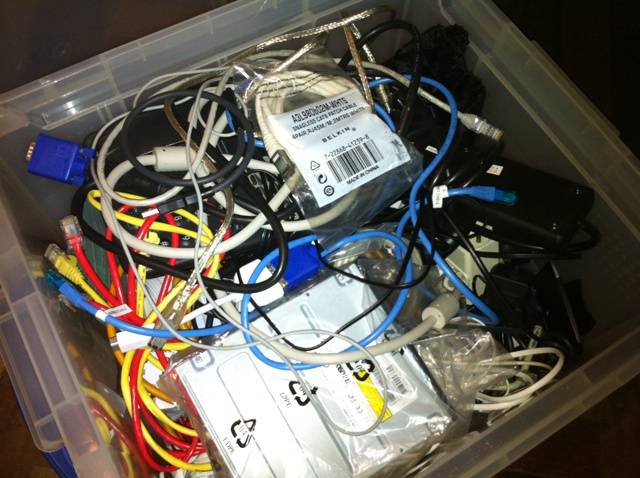 Dabbsy's cable container
This particular box contains assorted mains leads, monitor cables, Ethernet cables, old mice, a spare internal Blu-ray drive and other shit that I don't need at the moment but I might do in the future. This junk came with stuff I bought or stuff I threw away.
For example, when a monitor breaks down, I dispose of it… but why should I send the still-fully-functional VGA cable and mains lead to accompany it to landfill? When my old floor-standing PC has died one last time and can no longer be upgraded or resuscitated, why should I dump a perfectly good Blu-ray drive along with the burnt-out motherboard?
Incidentally, I disposed of half a dozen low-capacity - by today's standards - hard drives recently. I dismantled them first and we're using the platters around the house as mug mats.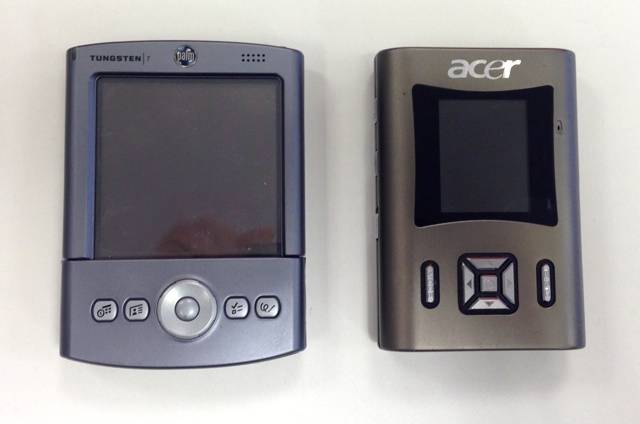 Seriously, what am I ever going to do with a Palm Tungsten and an Acer what-the-f**k these days?
Very occasionally - very, very occasionally, in fact - I am able to offload some of these things on desperate people. I practically live for the day when someone asks: "Got a spare CAT5?" One small company I work for is pretty much kitted out with my old mice, keyboards, mains cables and routers. And mug mats.
However, it gets depressing to keep finding outmoded and obsolete kit in these boxes such as pre-Bluetooth wireless mice whose drivers, obtainable only from obscure FTP sites and zipped up with Readmes written in Korean, no longer work anyway.
Much of the attic space is taken up by the boxes that my computer kit was delivered in – handy when you have to send things back for replacement under warranty, I suppose, although I've only ever had to do this once in my adult life. Oh, and there was that old eMac I packed up and sent to my brother. Hey, that make it all worth while!
I have just now tripped over some boxes in the office. Why have I never noticed them before? Ah, it's because they weren't there before: half-life wife has dragged them out for my consideration and judgement. Another clear-out is overdue. ®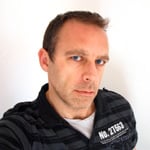 Alistair Dabbs is a freelance technology tart, juggling IT journalism, editorial training and digital publishing. Possibly the most annoying thing about hoarding electronic kit is that the only time you're certain to find any use for it is two weeks after having been persuaded to dispose of it.
Similar topics