Nokia puts Symbian out to pasture ... why not release it into the wild?
Old girl needn't be finished yet
Symbian is now in 'maintenance mode', and Belle FP2 was its last ever update, Nokia Developer support is telling devs.
This is hardly a surprise, but official confirmation of any kind has been elusive.
As we exclusively revealed back in February, Nokia cancelled the entire roadmap of Symbian phones, leaving just one device: the PureView 808. Large layoffs of remaining Nokia Symbian engineers took place in spring and early summer. Whether there's anyone left to do the 'maintenance' - or shake the mothballs - either at Nokia or Accenture, is an open question.
We now know that Nokia management conceded that Symbian couldn't cut the mustard, thanks to years of accumulated userland cruft, by the end of 2008. But it couldn't get Symbian's anointed replacement Maemo/Meego to market quickly enough. So it missed the opportunity of making a managed, orderly transition from Symbian to Linux using Qt as a bridge.
Then, when Stephen Elop CEO announced the partnership with Microsoft, sales of Symbian devices fell of a cliff. Nokia had hoped that Symbian sales would gradually decline over a two-year period: it expected to ship 150 million Symbian phones following the February 2011 strategy shift. Sales of Symbian smartphones at that point were over 25 million per quarter and increasing. But it has barely managed half that.
So Nokia revised last year's software roadmap, which envisaged four updates to Symbian, which had by then been renamed, with the Symbian moniker disappearing. (The first two revisions were Nokia Anna and Nokia Belle. Now, Belle Feature Pack 2 (FP2) will be the last to include new features.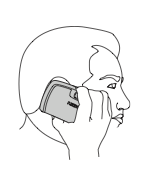 'How to hold the phone':
from the Nokia 7710 User's Guide (2005)
Most of Nokia's Symbian engineers were spun out to Accenture, where they've been laid off or reassigned. Nokia revealed yesterday that Symbian devices still managed to outsell Windows-powered Lumias, by 3.4 million to 2.9 million, in Q3.
Bye, then
The OS made its debut in a commercially available product in 1997, giving it a 15-year run on the market, and it has since powered more than 400 million devices, at a rough estimate. Which is not too shabby.
And underneath the crufty UI and bloat, there's still a remarkably reliable, low-power, real-time OS kernel. Nokia could do worse than release it into the wild, where it could spend its final days in really useful little devices.
For our history of the birth of the OS, see this in-depth feature from 2007, published three days before Apple launched its iPhone, funnily enough. ®