Android users who enjoy living on the edge might like to try out the alpha version of Firefox Marketplace, the Mozilla Foundation's new online bazaar for mobile apps based on web technologies.
"Just last year, we started working to turn the Web into a viable apps development platform," the Mozillians wrote in a blog post announcing the Marketplace on Thursday. "We created the Firefox Marketplace to allow developers to build, distribute and monetize rich, immersive apps that use Web technologies like HTML, JavaScript and CSS."
It's premature to call Firefox Marketplace a "store" just yet, since Mozilla has yet to add features like ratings, reviews, and payment processing – in short, just about everything you'd expect from a proper app store.
It also isn't for everyone. At this early stage, the Marketplace only works with Firefox for Android Aurora, the bleeding-edge alpha version of Mozilla's mobile browser, which is so experimental that it isn't even available in the Google Play store.
Android users can download Firefox Aurora from Mozilla's website, but even then, they may have to enable apps from "unknown sources" in their settings before it will install.
Those who dare to take the plunge, however, will find a fairly typical online marketplace with a good handful of apps already available, including games, a smattering of productivity apps, and apps from media companies such as The Boston Globe, The Times, and Wired.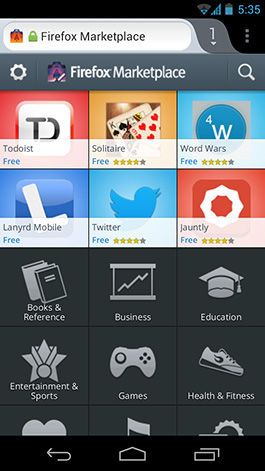 Screenshot of Firefox Marketplace
running on a Samsung Galaxy Nexus
The apps are built with web technologies, but you download and install them just like you do native apps. You launch them from a menu in Firefox Aurora, but once they're running it's hard to tell you're looking at HTML and JavaScript. The browser tab and UI disappears and you're left with something that looks and behaves more or less like any other mobile app.
Which of course raises the question, why bother? If I already have a Twitter client on my mobile, why would I go through the trouble to download an experimental web browser just so I can install another Twitter client that's made with HTML5 but otherwise behaves exactly like my old one?
The answer is that you probably wouldn't – unless, that is, you were really keen on building HTML5 apps. "This release gives developers a means to get feedback on their apps as the Marketplace grows and progresses," the Mozilla mavens write.
In the long run, Mozilla's work on the Firefox Marketplace for Firefox Aurora helps lay the groundwork for what will eventually become Firefox OS, the open source group's planned operating system for low-cost smartphones that will be based entirely on web technologies.
"Our goal is to collect as much real-life feedback as possible about the Marketplace's design, usability, performance, reliability, and content. Feedback from early adopters helps us enhance the quality of the Marketplace before it is released to larger audiences," writes Mozilla engineering manager Bill Walker.
The Mozilla Foundation says it plans to release further alpha, beta, and Firefox OS versions of the Marketplace throughout 2013. ®
Similar topics