Amazon Web Services' Ashburn, Virginia, data center is giving the retailing and cloud computing giant headaches again, and Bezos can't blame the fickleness and severity of the weather this time around as he could back in late June when a hurricane-like line of thunderstorms ripped across the Ohio Valley and knocked out power to 3.5 million people in several states for many days.
It's a perfectly beautiful day in Ashburn, in the high 60s and sunny. So that's not the problem. Exactly what is the problem with the US-East-1 data center, which has given the company more than its fair share of headaches over the years, is not clear. Perhaps it is simply the proximity to the entropy fields emanating from the US Congress and White House.
According to the AWS Service Health Dashboard, at 10:30am Pacific Daylight time a "small number" of volumes in the Elastic Block Service (EBS) in a single availability zone within the US-East-1 data center were experiencing degraded performance, and by 11:11am, Amazon confirmed that crabby customers who depend on AWS for their infrastructure were not just making it up.
Amazon said 15 minutes later that new instances for launches for EBS-backed instances were failing, and that performance was degraded for these users. A little more than an hour later, Amazon said it was working on recovering the impacted EBS volumes.
Whatever is going on inside US-East-1, the trouble has been spreading, with the ElastiCache content caching nodes and Relational Database Services nodes in the region experiencing connectivity issues soon after the affected EBS volumes were being restored. The Elastic Beanstalk middleware service was also seeing delays in launching, updating, and deleting instances at around the same time, and shortly thereafter, at 12:25 PM Pacific, the CloudSearch service and the CloudWatch monitoring service for virty infrastructure also started having problems.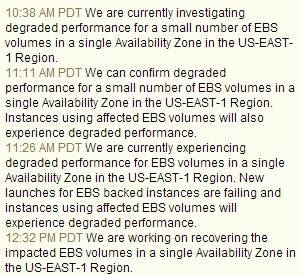 It is interesting to note that Amazon says these services are having performance issues, not that there is a disruption of service. El Reg supposes that this is a fine line when it is your site that is essentially knocked out of commission by "performance issues" as cloudy systems go into super-slow mode and Amazon goes into cover-your-AWS mode.
Reddit, Pinterest, Heroku, Foursquare, and Airbnb all reported that their sites were "having a case of the Mondays," as Airbnb put it. Outages were reported at GitHub, Netflix, and other web properties, too, that have some of their infrastructure in the US-East-1 data center.
It seems pretty clear that Amazon needs a new data center for the East coast. This one is haunted. ®