HP has decided to curtail its reselling agreement with Violin Memory in favour of concentrating on 3PAR solid-state storage.
HP has been reselling Violin Memory's v-31xx and v-32xx flash memory array products since July of last year via a Hardware Product Purchase Agreement (HPPA). We understand it has no intention of extending or expanding this reselling agreement, but it will naturally maintain it in the interests of its customers. The reason behind the move is that HP is focussing on 3PAR solid-state storage, with company spokesperson's official statement being: "HP 3PAR is our strategic direction for solid state storage."
Violin Memory's statement reads:
The current HP Violin relationship remains unchanged. The VMA product family (the Violin 3000 and vSHARE software) continue to be available to customers via HP as per the announced relationship (HP VMA-series Memory Arrays). HP engineering continue to certify the VMA with additional servers, operating systems and joint selling and promotions. POC (proof of concepts) are currently active as are additional HP certifications.

HP has stated 3PAR is the long term strategic direction for their company. Violin offers other products like the Violin 6000 through both our direct sales and our global reseller network as well as other software and system vendors which have been announced over the past 12 months.
It is our understanding that a purpose-built flash array with a ground-up designed software and hardware controller infrastructure, such as Violin' products, would deliver much better and more reliable performance than a disk drive-based array populated with solid-state drives but using the original disk drive array controller software. HP's strategy may involve extending the 3PAR array controller software to better manage a set of SSD resources.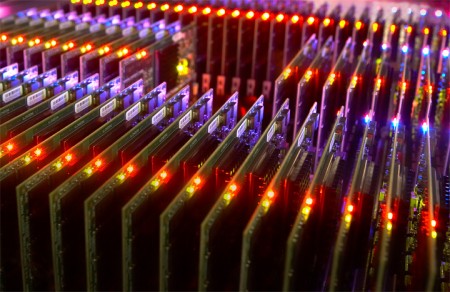 Violin Memory flash array cards
There has been speculation that this revelation of a limit to the HP Violin Memory reselling deal could force Violin to change its rumoured IPO filing – if such a filing exists – because it could materially affect future income from HP for Violin. This may or may not be the case, of course.
The importance of flash-memory storage is such that general moves by mainstream storage players to have their own flash storage array technology are to be expected. ®
Similar topics