Ceefax, the BBC's Teletext service, is no more.
First broadcast on 23 September 1974 following its announcement two years previously, Ceefax comprised pages of text and crude block graphics transmitted as codes embedded in unused, off-the-screen lines of the 625-line PAL TV signal. Some 30 pages were provided at first, each transmitted one after the other in a repeated cycle. The viewer entered the page number he or she wanted to view, and when the page came round again it was displayed on screen.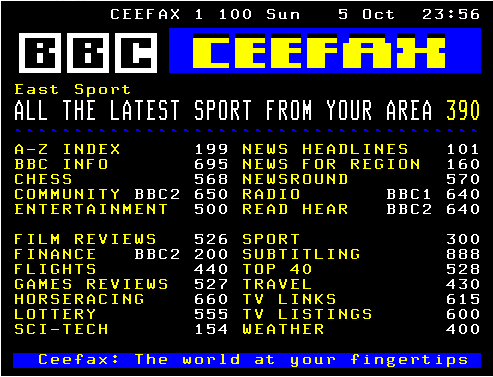 ITV was not long to follow with a service of its own, Oracle, but it wasn't until 1976 that the BBC and the Independent Broadcasting Authority (IBA), which back then oversaw all the independent, regionally assigned broadcasters, agreed to a common set of standards to which the two Teletext services would adhere.
The agreement paved the way not only for the shared specification to eventually become a European and global standard, but crucially for TV manufacturers to begin supporting both services. In the late 1970s and early 1980s, Teletext TVs were few and far between. This reporter wrote a secondary school project on Teletext and British Telecom's phoneline-delivered Viewdata service, Prestel, which was launched in 1979 - no one else in the class knew what they were. But by the late 1980s, sets supporting the technology were increasingly commonplace.
Not that viewers had no experience of the service. The BBC, for instance, would broadcast pages as a regular TV picture - rather than data - after ordinary programming had finished for the day and during afternoon breaks in transmission. Indeed, following the advent of digital TV and its 2007-launched "red button" interactive services - essentially Teletext for the modern era - the BBC continued to transmit Ceefax pages as pictures noticeable for a much lower resolution and colour saturation than the originals.
But with UK analogue transmissions finally due to come to an end at midnight tonight in Northern Ireland tonight, the BBC yesterday turned off Ceefax, now no longer needed. Oracle closed down in December 2009, victim not only of the analogue switch-off but also of the merger over the years of dozens of independent broadcasters into the single, monolithic ITV.
Oracle, and Channel 4's 4-Tel Teletext services, were operated under an independent television franchise. Run from 1978 to 1992 by an operation also called Oracle - no relation to Larry Ellison's firm - the franchise as acquired at the end of a bidding war by Teletext Ltd, which began its service at the start of 1993. Sensing the shift to digital, Telextext Ltd made an early leap onto the web.
This time tomorrow there will no analogue TV transmissions in the UK, completing a move to digital begun in 2008. Belfast's Divis transmitter will be the last to disable analogue, almost 76 years to the night when British TV broadcast services first began to be sent out from Alexandra Palace on 2 November 1936.
The analogue spectrum will be reassigned to 4G LTE mobile broadband. ®